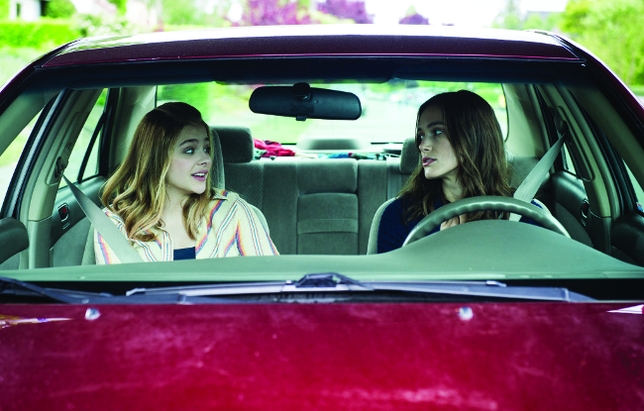 The 2014 Sundance Film Festival will be a reunion of sorts, with several of the featured actors and filmmakers returning alums.
Aubrey Plaza, who made headlines at the festival in 2012 with the time-travel comedy "Safety Not Guaranteed," returns next year with the zombie movie "Life After Beth." Aaron Paul, also at the festival in 2012 with the feature "Smashed," is back with the motocross/heavy-metal drama "Hellion," which is based on a short of the same name that previously screened at the festival.
William H. Macy, who co-wrote the screenplay to "The Deal" which debuted at Sundance in 2008, is back as a first-time director with "Rudderless," about a grieving father who forms a band to play his deceased son's music.
Meanwhile, David and Nathan Zellner also return with "Kumiko, the Treasure Hunter," about a Japanese woman, played by Rinko Kikuchi, who comes to America in search of the money Steve Buscemi's character buries in "Fargo." The filmmaking brothers from Austin, Texas, previously enjoyed success at Sundance with "Kid-Thing," a drama about a 10-year-old girl played by Sydney Aguirre.
"In many of the films selected for our 2014 Sundance Film Festival, we see fascinating characters and subjects throughout. Whether portrayed by recognized actors taking on more challenging and diverse roles, or in the stranger-than-fiction reality of our documentaries, we look forward to sharing these incredible stories with audiences at our Festival," Trevor Groth, director of programming for the festival, said in a statement.
The festival has been a launching pad for African-American actors in recent years, and the 30th anniversary of the indie showcase this January could maintain that tradition.
Michael B. Jordan saw his career take off after "Fruitvale Station" debuted at Sundance in 2013 and won both the Grand Jury Prize and the Audience Award for U.S. dramatic film. In 2012, child actor Quvenzhané Wallis was the breakout star of "Beasts of the Southern Wild" (which also won the Grand Jury prize in the U.S. dramatic competition), going on to earn an Oscar nomination for her work.
In January, the festival will feature "Dear White People," from writer-director Justin Simien. While the film is a satire, it's being considered in the U.S. dramatic competition category and could boost the careers of stars Tyler James Williams and Dennis Haysbert. The plot follows four black students at an Ivy League college where a riot breaks out over an African-American–themed party thrown by white students.
The last run of the festival saw a glut of female directors showcasing their projects, including Lynn Shelton's "Touchy Feely"; Shelton returns to the fest this year with "Laggies," starring Keira Knightley, one of several films to feature young women actors in complex roles. "Camp X-Ray" stars Kristen Stewart as a guard stationed at Guantanamo Bay, where she forms an unlikely friendship with one of the detainees. In "Song One," which marks the directorial debut for Kate Barker-Froyland, Anne Hathaway plays a woman who tracks down the favorite musician of her comatose brother. And Lena Dunham stars in "Happy Christmas" as a young woman who moves in with her brother after a breakup.
The festival runs Jan. 16–24, 2014, in Park City, Utah.