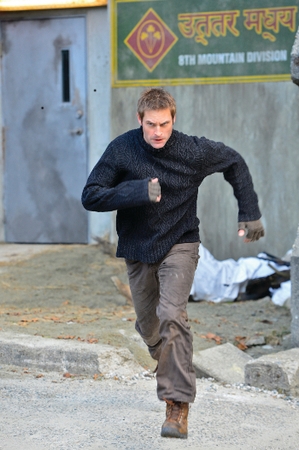 With the holidays in the rearview mirror and pilot season revving into high gear, the time has come for the major networks to unveil the programming they didn't deem good enough for a much-hyped fall premiere. Midseason shows can be great ("Moonlighting"!) or they can fail miserably (any spring at NBC), so program your DVRs with care. But good or not, there will always be an actor or two worth seeking out.
CBS, the Goliath of the Big Four, has only one midseason series scheduled: "Intelligence," starring Josh Holloway as a spy with a computer chip embedded in his brain and Marg Helgenberger looking out for him. Since it's CBS, expect a lot of procedural and not too much questioning of what that means, ethically. (And put a pin in the net's upcoming adaptation of the Cameron Diaz movie "Bad Teacher," starring Ari Graynor and not yet on the schedule.)
ABC, perhaps emboldened by the runaway success of FX's "The Americans," gets into the Cold War espionage game with "The Assets" (Jan. 2), an eight-part miniseries based on true events starring Jodie Whittaker, Harriet Walter, and Paul Rhys. The net also has "Killer Women" premiering Jan. 7, in which Tricia Helfer stars as one of the few female Texas Rangers, who, almost monotonously, isn't afraid to break some rules along the way! There's also "Mind Games" (March 11), starring Christian Slater and Steve Zahn as con artist brothers; the extremely high-concept "Mixology" (Feb. 26), about 10 people at a bar and which takes place over the course of a single night for the entire season; and "Resurrection" (March 9), starring Omar Epps as an immigration agent drawn into a mystery surrounding an 8-year-old boy, missing for more than 30 years, who suddenly reappears in China.
Fox has one new sitcom on its schedule (and two more still waiting in the wings) with "Enlisted" (Jan. 10), starring Geoff Stults, Chris Lowell, and Parker Young as brothers on a Florida Army base. Expect a lot of underdogs and heartwarming moments. Fox also has "Rake" (Jan. 23), a dramedy about a defense attorney whose life is messy enough to rival any of his clients. The premise might be tired (it's based on an Australian series), but the assembled cast—Greg Kinnear, Miranda Otto, John Ortiz, Necar Zadegan, and Tara Summers—is top-notch.
Over at NBC, the midseason shows are both big swings and safe bets. Among the former is pirate drama "Crossbones"; among the latter is "Chicago P.D." (Jan. 8), a spinoff of the Peacock's hit "Chicago Fire." "Chicago P.D." is also the only NBC show with a premiere date as of press time; still waiting for air time are safe sitcoms "Growing Up Fisher" (starring J.K. Simmons and Jenna Elfman) and "About a Boy" (starring David Walton and Minnie Driver), as well as big-swing dramas "Believe" (a J.J. Abrams-Alfonso Curaón collaboration) and "Crisis," about a school bus full of the children of influential men and women taken hostage, and starring Dermot Mulroney and Gillian Anderson.