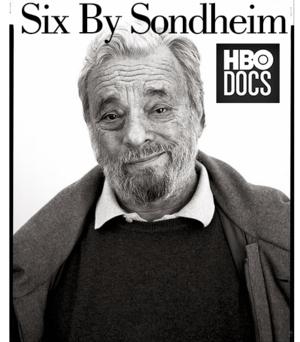 James Lapine and Stephen Sondheim have been linked together in the minds of theatergoers and fans of musicals since they first collaborated on the Pulitzer Prize-winning "Sunday in the Park With George," for which Lapine wrote the book and directed. They went on to create "Into the Woods" and "Passion" together, and then Lapine crafted the loving revue "Sondheim on Sondheim" in 2010, in which an eclectic cast of singing actors transformed songs we thought we knew, interspersed with freshly filmed commentary from Sondheim.
Now Lapine has returned to paying tribute to his friend and colleague with the HBO documentary "Six by Sondheim," airing Dec. 9. Focused on six of his best-known songs (performed in sometimes unusual stagings by a cast that includes Darren Criss and America Ferrera), the doc captures both the magic and the skill inherent in any Sondheim song. We spoke to Lapine about how to pay fresh tribute to a man who has been feted for decades.
Don't be afraid to revisit previous work.
Lapine says that he considered "Sondheim on Sondheim" his Sondheim swan song, calling it his "I-love-you-Steve-happy-80th-birthday-and-now-on-to-other-things event." But when he was approached about doing a TV documentary for HBO, the chance to work with the network's Sheila Nevins and Frank Rich was too good to pass up.
Be prepared to rethink everything.
Lapine's original vision for the documentary was to have six directors stage the six songs, including "I'm Still Here," "Opening Doors," and "Being Alive," but that proved impossible for practical (and budgetary) reasons. "It was a really good idea, it just wasn't a very practical idea at the end of the day," Lapine says. "It was much more work. Ultimately it really evolved, which I think is what makes documentaries documentaries." However, acclaimed director Todd Haines did remain attached, filming a strangely moving version of "I'm Still Here" sung by Jarvis Crocker to a room full of the kind of women we expect to see singing it.
Fresh faces make old songs seem new.
In addition to Crocker, Lapine cast Jeremy Jordan, Darren Criss, and America Ferrera, who sing "Opening Doors" from "Merrily We Roll Along." "One of the reasons I chose that song to do was for that particular purpose to make it not an old fogey kind of piece," Lapine says. And though Ferrera isn't known as a singer, Lapine was immediately taken by her when a casting director recommended they meet. "The minute I met her, I thought, Oh, she's really special."
Keep in mind your audience.
Filming a documentary about Sondheim songs could easily veer into the esoteric, but Lapine couldn't afford to do that for HBO. Keeping in mind the middle-of-the-road HBO subscriber, Lapine fashioned a film that appeals both to die-hard fans and those unfamiliar with 20th-century musical theater. He was helped, of course, by the nature of the songs he was highlighting. "They're always complicated and complex in ways that reveal themselves differently depending on the context or who's doing them," Lapine says.