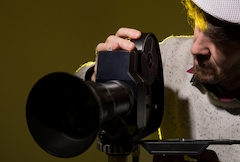 In addition to its MFA program in documentary filmmaking, Stanford also offers film and media as both a major and minor. The degree acts as an introduction to film aesthetics and cinematic traditions, and places a focus on narrative, documentary, and experimental film through a contemporary lens.
Designed to train students in cinematic design, directing, and postproduction, the New School film production certificate offers both modern and traditional 16mm film instruction to ensure a thorough understanding of filmmaking and professional development. It also offers undergrad certificates in film production and screenwriting, and an M.A. in media studies.
UTexas has a highly regarded Bachelor of Science program within its radio, television, and film department, as well as a selective MFA program in film and media production that yields a class of 12 each year. The university gives extensive studio and technique courses spanning all facets of media production. Students direct a minimum of four films, including documentary and fiction, while completing their grad degree.
Columbia offers a writing-intensive undergraduate film degree for students looking to learn more about the art form, both technologically and culturally, before working in the industry. The university also has two MFA programs—creative producing and screenwriting/directing—that provide graduate students with a deeper understanding of dramatic filmmaking.
The AFI Conservatory is a production-based environment, encouraging hands-on learning; students make more films than any other graduate-level program, according to its website. AFI emphasizes "narrative visual storytelling and personal expression," and encourages a collaborative atmosphere. The school offers training in cinematography, directing, editing, producing, production design, and screenwriting.