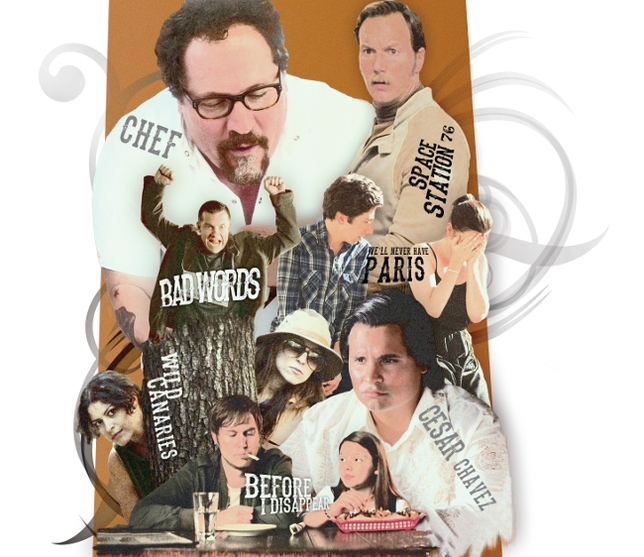 This year, actors at South by Southwest are bringing their directing skills to Austin. From Jason Bateman ("Bad Words") to Diego Luna ("Cesar Chavez") to Simon Helberg ("We'll Never Have Paris"), here are the ones we can't wait for!
Jon Favreau "Chef"
The multitalented Favreau wrote, directed, and stars in this comedy about a man who loses his job as a high-profile chef and attempts to open up a food truck, El Jefe Cubanos, while simultaneously trying to piece his family back together and reconnect with his estranged wife, played by Sofía Vergara. The film also stars Robert Downey Jr., Scarlett Johansson, and many more starry names.
Diego Luna "Cesar Chavez"
Luna, best known for his performances in "Milk" and "Y Tu Mamá También," has his biographical "Cesar Chavez" making its North American debut at SXSW this year. Starring Michael Peña, America Ferrera, and John Malkovich, the biopic recounts the story of the legendary California labor leader and civil rights activist as he fights peacefully for a living wage.
Lawrence Michael Levine "Wild Canaries"
Levine ("V/H/S/2" and "Gabi on the Roof in July") also acts in "Wild Canaries," a comedic mystery about a woman who is convinced that something criminal is going on after a neighbor abruptly drops dead. Sophia Takal, Alia Shawkat, Annie Parisse, and Jason Ritter star.
Simon Helberg "We'll Never Have Paris"
The "Big Bang Theory" actor co-directed this star-studded rom-com based on his relationship with his now wife, Jocelyn Towne, who fled to Paris after being betrayed by Helberg. The cast of this charming film includes Helberg as himself, Melanie Lynskey as his wife, and Maggie Grace, Zachary Quinto, Alfred Molina, and Judith Light, among others.
Jack Plotnick "Space Station 76"
If one film is going to stand out at SXSW, it's Plotnick's "Space Station 76," a sci-fi dramedy set in a 1970s version of the future, "where personalities and asteroids collide," and starring Patrick Wilson, Matt Bomer, and Liv Tyler. The idea is that life on the Omega 76 space station is similar to suburban 1970s life, aside from the fact that Capt. Glenn Terry (Wilson) is controlling the ship while struggling with his alcoholism and bisexuality.
Jason Bateman "Bad Words"
Starring and directed by Bateman, "Bad Words" is the story of one foulmouthed dropout who finds a loophole in the rules of a spelling bee tournament that allows him to compete. Also starring Kathryn Hahn and Allison Janney, the film tells the story of an unlikely friendship between Bateman's character and a kid he's competing against, while he attempts to give his life some sort of direction.
Shawn Christensen "Before I Disappear"
Christensen is back with this feature-length adaptation of his 2013 Academy Award–winning short film "Curfew." In addition to writing and directing the film, Christensen stars as Richie, who gets a call from his estranged sister while attempting suicide in his bathtub. When she asks him to look after his niece, Sophia, for a few hours, the two bond over stories of his life and flipbooks he drew as a child.