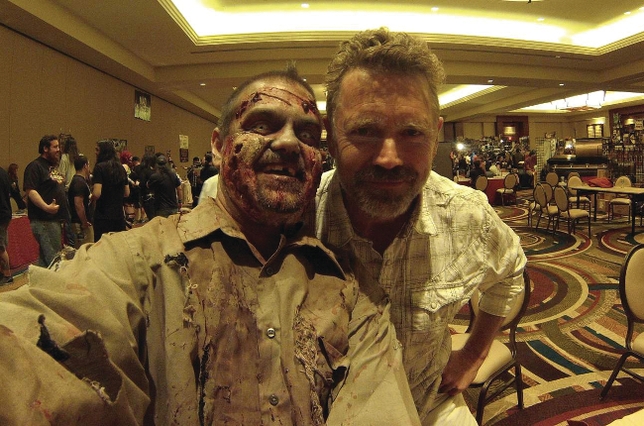 The sixth installment of FearCON is coming back to Phoenix, and the growing horror fest has extended its gory festivities into a two-day affair, running Nov. 1–2.
The independent film festival (Arizona's largest convention of this sort) showcases some of the horror industry's notable feature-length and short films, providing a venue for industry professionals from actors and directors to special effects makeup artists, and breaking it up with all that's fun about things that go bump in the night.
"Actors always attend the event because it's important for them to understand what a lot of filmmakers are looking for, and they find that in our workshops," said festival director Chris McLennan, who scheduled events that will include panel discussions and horror-fueled demonstrations and games. "A lot of filmmakers that have a lot of experience [will be in attendance]; for example, Jim O'Rear—he's got a 30-year history with the industry. [Actors] can learn so much from these people, while meeting a lot of filmmakers and networking."
Actor-focused events include appearances from yet-to-be-announced celebrity cast members of "American Horror Story: Coven" and "Sharknado 2." "The Walking Dead" actor Theodus Crane, who played convict Big Tiny in the third season, will also make an appearance, alongside several featured "walkers" from the AMC series—one of whom McLennan knows from promoting comedy shows in Phoenix ("It shocked me to death when I found out he was on 'The Walking Dead!' ").
Attendees this year will be able to work with a real paranormal activities team, attend the Ms. FearCON Beauty Pageant, and play games such as Zombie Paintball. For "Doctor Who" fans, the T.A.R.D.I.S. team will make an appearance, as will horror-themed band Hardwire, with special guests Epitaph Romance and Sara Mayhem.
Beginning in an art gallery, FearCON has outgrown its previous year's venue every year since its inception. For 2014, the fest has relocated to local haunt Fear Farm, where the grounds include five haunted houses and Phoenix's largest corn maze. The outdoor venue prompted organizers to purchase a canopy that will ensure things get scary, rain or shine, and they are asking patrons for donations via Indiegogo to cover costs.
"I used to get bored at film festivals, so I started writing a list [of what I would do differently]," explained McLennan. "Ten years later, [my husband and I] said, 'Let's just do it.' We had been promoting events in the local area—we had comedy shows, wrestling shows, and burlesque shows—so we had contacts with all the different venues."
This year the fest is offering VIP tickets, which include a two-day pass and can be obtained if $100 or more is donated to the fest's Indiegogo. Other higher-priced VIP perks include an invitation to a private preshow party with celebrities on Oct. 31, front-of-the-line access to events, swag, and a special photo session.
For more information and to purchase tickets, visit phoenixfearcon.com.
Inspired by this post? Check out our audition listings!