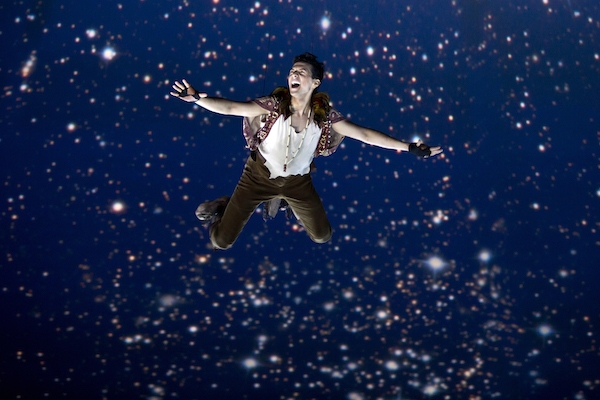 November is the month for giving thanks, and if you happen to be in Texas during November, there are a lot of things to be thankful for happening on stages across the Metroplex. Here's our rundown of the events you shouldn't miss.
"The Sound of Music"
We know… you're thinking: "Not this again?" But Tony-winning director Jack O'Brien promises his newly-revisited take on the Rodgers & Hammerstein classic will lead audiences to reevaluate the enduring musical. Dallas, Texas, is just the second stop on its planned road to Broadway.
Runs now through Nov. 22 at Fair Park Music Hall.
"Tosca"
Puccini's glorious tragedy, with one of the most iconic female roles in the entire opera canon, is the second production of Dallas Opera's 2015–16 (running in repertory with the world premiere "Great Scott"). Music director Emmanuel Villaume conducts with Emily Magee in the title role.
Runs Nov. 6–22 at the Winspear Opera House.
"Dixie's Never Wear a Tube Top While Riding a Mechanical Bull (And 16 Other Things I Learned While I was Drinking Last Thursday)"
Camptastic Tupperware lady Dixie Longate (aka performance artist Kris Andersson) debuts this all-new solo show about Dixie's adventures as a drag queen and saleslady.
Runs Nov. 11–22 at the McDavid Studio in Fort Worth.
"Peter Pan 360"
The Boy Who Never Grew Up performs under a 100-foot structure brought into Downtown Dallas that combines CGI projections, live-action flying, and dazzling effects in this circus-like show based on the enduring classic. Runs Nov. 11–29 at the Threesixty Theatre, 2450 San Jacinto St.
Bruce Wood Dance Project: 5 Years
Choreographer Bruce Wood died last year, but his Fort Worth company lives on, with re-stagings of works from Wood's extensive canon, as well as world premieres. Runs Nov. 13–14 at the Dallas City Performance Hall.
An Evening of Laughter with Leslie Jordan
The Emmy Award-winning comic actor ("Will & Grace," "Sordid Lives," "The Help") brings his formidable gifts as a raconteur to the Majestic Theatre for a one-night-only performance on Nov. 21 to benefit Legacy Counseling, which provides affordable mental health care, as well as housing for people dealing with HIV/AIDs.
"The Show About Men"
Danielle Georgiou, one of North Texas' most promising new choreographers, brings back her original piece that debuted this summer with a dance-theater hybrid that combines modern dance, movement, monologues, and jokes in an exploration of what it means to be a man.
Runs Nov. 19–21 at the Bath House Cultural Center.
Inspired by this post? Check out our Texas audition listings!