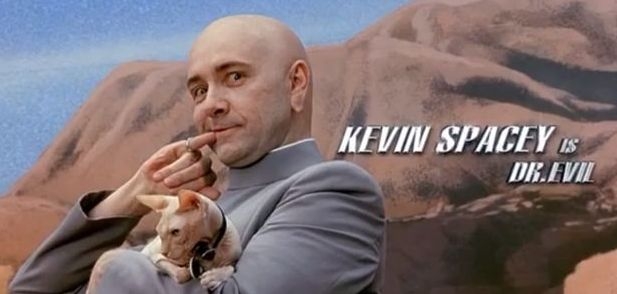 There's nothing better than that moment when you're watching a film and you get a surprise: a hysterical cameo by an actor you were not expecting to see. Here are some of our favorites! Warning: Spoilers abound below!
Bill Murray, "Zombieland"
It's hard to make a movie about zombies starring Woody Harrelson, Jesse Eisenberg, Emma Stone, and Abigail Breslin any better than it already is… unless, of course, you add Bill Murray to the mix. An already ridiculous movie that features Harrelson's character traveling across a zombie-filled America to find the last Twinkie, "Zombieland" is made that much more enjoyable when Murray appears (introduced by the "Ghostbusters" theme) and reveals he's not a zombie, but wears the makeup to blend in. "This is so surreal," Harrelson says in the scene, and we're right there with him! (Oh yeah, and then they get high and re-enact "Ghostbusters.")
Johnny Depp, "21 Jump Street"
You can't help but laugh when a biker with a gun reveals himself as a foul-mouthed DEA agent at the end of "21 Jump Street," and that DEA agent is…Johnny Depp. "You little dweebs just ruined a five-year investigation," he says to Jonah Hill and Channing Tatum, staring at him in awe.
Tom Cruise, Gwyneth Paltrow, Kevin Spacey, and Danny DeVito, "Austin Powers in Goldmember"
"Austin Powers in Goldmember," the highly-anticipated third installment of the Mike Myers-starring franchise, blew away expectations in its very first scene. It's not until nearly two minutes in, after thinking you've been watching Myers in a tense action scene, is it revealed that it's actually Tom Cruise as Austin Powers, starring in the movie about him. But you know a movie this outrageous didn't stop there. In the same scene, the cameos include Gwyneth Paltrow as Dixie Normous (seriously), Kevin Spacey as Dr. Evil, and Danny DeVito as Mini Me. Powers called the opening credits "very shagadelic, baby!" We agree.
Neil Patrick Harris, "Harold and Kumar Go to White Castle"
You have to wait till the end of "Harold and Kumar Go to White Castle" to see Neil Patrick Harris, but it's so worth it. When Kumar says he's a huge fan of "Doogie Howser, M.D.," and asks if Harris ever got with Wanda on the set, Harris says, "Dude, I humped every piece of ass ever on that show." In the scene, Harris says he took Ecstasy at a party and has been "trippin' balls ever since."
Glenn Close, "Hook"
The phenomenal Glenn Close makes a quick cameo in "Hook," but you might not have recognized her…dressed as a man. Decked out in gray hair, a full beard, and slacks, Close plays a pirate who gets thrown in the Boo Box.
Matt Damon, "EuroTrip"
OK, this one's really, very special. In the 2004 adventure comedy about a high school grad traveling Europe with his friends, Matt Damon, complete with a buzzed head, leather bracelets, and tattoos, sings "Scotty Doesn't Know" with the band Lustra. The song is about the lead character's girlfriend cheating on him with Damon's cool, punk character. Hilarious and mean, this cameo makes the movie (which turns 10 this year).
Steve Buscemi, "The Wedding Singer"
Steve Buscemi makes the ultimate drunken cameo in the 1998 comedy "The Wedding Singer" when he delivers a toast as the obliterated best man and bitter brother of a groom. Of course, as the awkward tension grows, Adam Sandler's character interrupts him, to which Buscemi responds by grabbing a guitar and playing, noting that he's the "best guitar player in the world!" Less than two minutes long, the scene is undoubtedly golden.
Tom Cruise, "Tropic Thunder"
Yes, Tom Cruise makes this list again because we couldn't possibly ignore this epic cameo. Proving his impeccable sense of humor once more, Cruise appears in "Tropic Thunder" as studio executive Les Grossman, who uses his vulgar language in the art of persuasion.