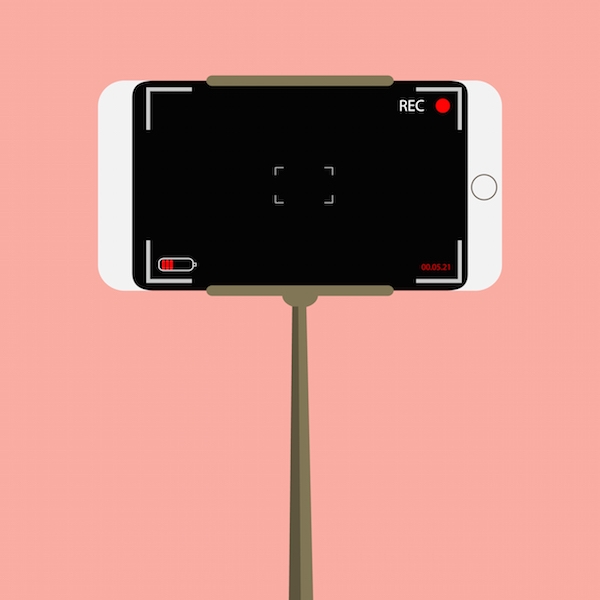 Navigating the art of the self-taped audition can be as crucial for your career as hitting the streets in-person. More and more CDs and producers are requesting audition tapes from actors all over the country; do you have what you need to make a clean and professional self-tape? Here are eight handy tools to have on deck when the next casting call rolls in.
A Camera
No need to get fancy here—iPhones, iPads, and Androids can often create better footage than expensive camcorders. If you are interested in an upgrade, check out a small digital camera like the inexpensive Samsung F90 flip camcorder, Canon's VIXIA HF R600, or head to your local electronics store for equally portable and effective options under $300. Be sure to check for sound quality and adjust your vocalization as-needed; you want to be sure the CDs, directors, and producers who are watching your footage can do so without reaching for the volume button.
A Tripod
A tripod is a must for self-tapes; nothing looks worse than wobbly hand-held footage. We love products like the Joby GorillaPod for flexibility and portability—the tripod's 6-inch legs can stand up straight or wrap around nearby tree limbs, railings, and more for steady footage from any setting. Standard tripods are great as well, and a small investment for professional-looking footage. Filming on your phone? Purchase a small adaptor to easily attach your device.
A Backdrop
Any neutral, plain colored background will do, but if you don't have a blank wall (or would rather not move your furniture) a pop-up blue or green backdrop can make for a clean look. Browse portable choices that fold up easily and can be leaned against the nearest wall or door, or purchase a clip-on stand to set up anywhere. Pro tip: A bright blue tone is flattering on everyone, but be sure not to match the backdrop to your shirt!
Lights
Lighting can be one of the trickiest parts of the self-tape. Dull overheads distort your look and pull focus from your performance, while proper lights will emphasize your eyes and make your acting work shine. A room with lots of big windows may not need much outside help, as long as you keep an eye on the shadows and keep the light in front of (never behind) you. If you're recording in a darker space, you may want to invest in a couple of lights to place outside the frame. Actors can use a variety of DIY tools for a standard two-part lighting set up; basic house lamps work in a pinch, and cheap paper lanterns can offer a warm (shadow-free) glow. For more pro options, look for inexpensive soft box lighting kits that pop up to create even, diffused illumination from within your home studio.
Editing Software
Unless you consistently nail all of your material in one take—(no one does this)—you'll want an easy-to-use video editing program to cut together your clips. While Final Cut Pro and Adobe Premiere are fantastic editing tools, they also come with fantastic price tags. A quick search of "free video editors" turns up lots of results. PC-users can easily access Windows Movie Maker, and Apple computers all come with iMovie. Other popular (and more sophisticated) editors include Lightworks Free and VideoPad Video Editor. Filming on your phone or tablet? Check out editing apps like Magisto and KineMaster. Finally, look for free video conversion apps to seamlessly adjust file type and size.
Sharing Platform
While casting will usually request a specific file format, it may vary from project to project. The easiest way to share large video files is through an outside platform like YouTube or Vimeo; remember that sides may be copyrighted, so any audition files should be uploaded with private, password-protected settings. If a CD requests the video via email, you will probably need to use a file-sharing cloud storage service. Google Drive is ultra-easy for Gmail users, and Dropbox remains a go-to for storing and sharing large files. Other convenient sharing tools include WeTransfer and Hightail (formerly YouSendIt).
A Reader
Having a generous reader (slash camera op) can take your self-tape to the next level. Don't be afraid to ask friends, classmates, or industry co-workers to help you out when it's audition time. That off-camera actor may not be trying out for the job, but they can use their listening and responding skills to help you get your best take. Feeling guilty about constantly asking for help? Don't worry, you'll inevitably get to return the favor.
Ready to film a self-tape? Check out our audition listings!