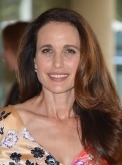 Tired of yellow tape, chalk outlines, and witness lineups? There could be a new outlet for actors trying to escape the glut of roles available on increasingly horrific crime procedurals: the Hallmark Channel.
The channel, which bills itself as the "nation's leading destination for quality family programming," announced that it will make its first foray into original scripted series with "Cedar Cove," starring Andie MacDowell and now heading into production in Vancouver.
Casting directors who have worked with Hallmark in the past on its TV movies say they've yet to be contacted about casting the series, which also stars veteran TV actor Dylan Neal. But Cathy Reinking, a casting director with an extensive TV résumé, said the series could be a breath of fresh air for actors looking for guest or co-starring roles. "With Hallmark, you get a nice, wholesome family drama," she told Backstage. "It's a good thing."
Michelle Vicary, executive vice president, programming, Hallmark Channel and Hallmark Movie Channel, said the new series would follow a tested model.
"Start with internationally acclaimed actor Andie MacDowell, add seasoned co-star Dylan Neal, [author] Debbie Macomber's bestselling stories, the consistency of a world-class show runner, and one of the most successful producing teams in television, and you'll see why we think the outcome will be irresistible—'Cedar Cove' will be the place we all want to call home," Vicary said in a statement.
In "Cedar Cove," which was the setting for a series of novels by Macomber, MacDowell plays Judge Olivia Lockhart, whose Cedar Cove Municipal Court "is the professional milieu and social microcosm of issues the judge will face in her own day-to-day life with family and friends," according to a release. Neal plays Jack Griffith, the new editor of the Cedar Cove Chronicle, and budding love interest for Judge Lockhart. The first episode was written by Bruce Graham and directed by Michael Scott.
The two-hour series premiere is set for Jan. 19, 2013; the series will continue in the spring.