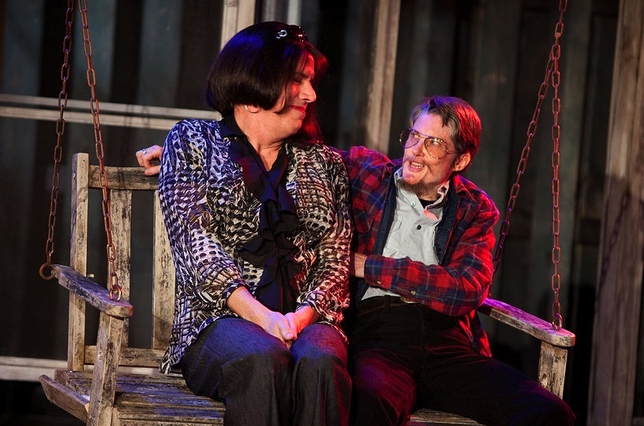 It is time, yet again, for the theater pros to introduce the new kids on the block.
At the National Alliance for Musical Theater's (NAMT) annual Festival of New Musicals, eight new musicals are introduced to the theater industry each year, previewing what could be Broadway's next big hits. Out of nearly 160 submissions, NAMT committees select just eight new musicals, all coming from different stages of development, some of which have had multiple regional productions and some that have never had a reading before.
Over the two-day festival, which starts on Thursday, the eight shows are performed in 45-minute staged readings by an amalgamation of well-established actors and up-and-comers to an industry-only audience of nearly 600 people.
But the NAMT Festival of New Musicals isn't a collection of your typical Broadway favorites, it's a presentation of new musicals and fresh talent.
"We're not trying to put on the next 'Oklahoma,'" NAMT Festival Director Branden Huldeen said. "Our goal is that there's something for everyone. So no one will be able to walk away and say they didn't connect to something."
This year, the 24th year of the festival, the musicals cover genres from fantasy to historical drama and music covers everything from bluegrass to pop to folk. The festival captures a diversity of stories, traveling from Guy Fawkes' 17th Century revolution in "Bonfire Night," to a modern reality television show in "Nobody Loves You," to the urban fantasy lands of "Funked Up Fairy Tales," to a 1900s circus in "The Circus in Winter."
"It is all over the place as far as characters," Betsy King Militello, Executive Director of NAMT, said. "I think we have a little more range this year from true comedy to really provocative themes."
Victoria Bussert, director of "The Circus in Winter," a folk-rock musical about an early 1900s circus, described the show as far from the typical Broadway musical. The music and lyrics, written by 21-year-old Ben Clark, are "so not what we think of as a Broadway sound," Bussert said.
Known for directing edgy rock musicals at the festival in the past, such as 2010's "Lizzie Borden," Bussert is the perfect fit for "The Circus in Winter's" rock sensibility. Bussert likened the show's music to that of "Spring Awakening," and said it had "a Tom Waits feel to." The musical stars two-time Tony winner Sutton Foster alongside Steel Burkhardt of "Hair."
While the festival tackles a variety of genres and musical styles, this year it also aims to educate on provocative real-life topics with the musical "Southern Comfort."
Based on the Sundance Award-winning documentary of the same name, the musical centers on the true story of Robert Eads, female-to-male transgender and the romance and medical issues of his late life. For the festival, Academy Award and Emmy Award nominee Annette O'Toole is revisiting the role of Eads, alongside "Urinetown's" Jeff McCarthy, who is revisiting the role of Lola Cola, a male-to-female transgender (pictured).
On playing a man who transitioned to a woman as a male actor McCarthy said, "I had never done anything like that in my life. It was very scary, but I came to love this character so much." He laughed about an instance before a reading when a man entered the dressing room shocked to find McCarthy spread-eagled in a wig and bra.
"It's a deeply humanistic, compassionate piece. I think it's a very important thing to get produced," McCarthy said.
Besides showcasing the new work of up-and-coming writers and composers, the NAMT Festival is also a great opportunity for rising actors. Not only do emerging actors get the mentoring experience of performing alongside well-known actors, but they also get exposure to the top industry people. "It's kind of the best audition you can have, auditioning for 600 industry members," Huldeen said.
The festival also helps unknown actors by handing out a one-sheet of headshots and agent information to the industry audience. "We're very consciously supporting the people who perform for us," Militello said.
While wildly diverse in music and genre, the one thing common with in everyone involved in the Festival is a buzz of excitement and enthusiasm. "There's a spirit around here where we all know it's about the pieces and not us," Bussert said.
"A lot of people say musical theater is dying, we'll not around NAMT!"
The 24th Annual NAMT Festival of New Musicals runs Oct. 11-12 at New World Stages. For more information visit www.namt.org/festival-2012.aspx.