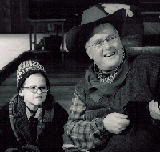 Theatre at the Center launches into the holiday season with Philip Grecian's stage adaptation of Jean Shepherd's 1983 motion picture "A Christmas Story." With detailed attention, Artistic Director Michael Weber remains faithful to Shepherd's kid's-eye view of growing up in Hammond, Indiana during the 1940's.
As Christmas approaches, Ralphie Parker desperately dreams of having his very own official Red Ryder BB Gun. Though he appeals his case to anyone who will listen, his mother, his teacher, and even Santa himself at Goldblatt's repeatedly crush his hopes: "You'll shoot your eye out!"
All the major scenes from the 1983 film are present in the production, including the family's unpredictable exploding furnace, the school bully Scut Farkas, the infamous wet tongue on the lamppost experiment, the disappointing Little Orphan Annie decoder pin, Ralphie's father winning the horrendous woman's leg lampshade, and of course Ralphie's imaginative dream sequences, one memorably involving Ralphie's teacher Miss Shields (Liz Pazik) disguised as the Wicked Witch gleefully cackling over the C-plus paper.
Unlike the motion picture, Philip Grecian's "A Christmas Story" calls for an actual character on stage narrating the story of Ralphie to the audience. With enormous energy and finesse, Don Forston takes on the elaborate job of playing the older Ralph in the Theatre at the Center's production, deftly switching between his role as narrator to such characters as the Christmas tree salesman, the deliveryman, and the offstage voices of the neighbor and Santa. In a poignantly heartwarming moment, the elder Ralph, dressed in cowboy hat and bandana, sits young Ralphie (Brian O'Donnell) down with a reminder that a true cowboy never abandons his dreams.
Joel Hatch and Mary Ernster have wonderful chemistry and expert comedic timing as The Old Man and Mother. An ensemble of children contributes to the whimsical nostalgia, most notably Rae Gray as Ether Jane, whose puppy love for the blushing and flustered Ralphie runs rampant.
Does Ralphie get his Red Ryder gun, with a compass in the stock and this thing which tells time? Well, if you've been subjected to the 24-hour cable TV marathons of the film, you know the answer. But don't let that deter you from seeing this charming alternative to yet another production of "A Christmas Carol," and you already know how that one ends, too.