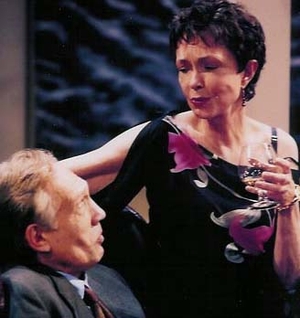 Remy Bummpo Theatre Company kicks off its 2004-2005 season with the revival of Edward Albee's Pulitzer Prize-winning play "A Delicate Balance." Director James Bohnen's cast shines not only in complex individual roles, but as an ensemble in a story of a weekend of unending drinks and witty banter, in which a family's emotional instability and denial of truths becomes impossible to control.
The play opens with Agnes (Annabel Armour) and Tobias (David Darlow) relaxing one Friday evening with after-dinner drinks, living a pleasant enough suburban upper middle-class life. They have even managed to coexist with Agnes' attention seeking, alcoholic sister Claire (the sprite-like Deanna Dunagan). Then in a matter of hours, their 36 year-old daughter Julia (played by the razor-sharp Linda Gillum) returns home for comfort after her fourth marriage fails and at the same time their best friends, Edna (Wendy Robie) and Harry (Joe Van Slyke), who believe their forty-year relationship with Tobias and Agnes gives them the right, seek shelter after they've become "frightened" living in their home. Unfortunately, there are just not enough bedrooms to go around, and to begin with there evidently is not even enough emotional room for the three people who already live there. Something has to give.
The always perfectly put-together Agnes deems herself the hinge that keeps the family "balanced," using her grandiloquent sarcastic speech as a weapon to maintain the family's stability, avoiding issues and not becoming truly emotionally involved. Though it would be easy to dislike Agnes, the vulnerability Armour gives the character allows us to see that, as the ruler of the roost, she is sadly alone.
Tobias is well aware of his shortcomings, preferring to hide from facts, uncomfortable stating his needs, and holding everyone at arms reach. Darlow ably distinguishes between surrendering to the slings and arrows thrown by the family and friends and getting up to fight; he is at his best after Tobias' pleas are answered with the departure of Edna and Harry from the home.
Claire is the family's court jester, spewing a snide running commentary as events unfold. Dunagan resists the temptation of playing his accordion-playing, free-speaking character as a silly drunk, instead creating a character with strength.
Tom Morrison's simple set design and Richard Norwood's lights provide a perfect contrast to the extravagant and colorful emotions displayed throughout the play.
If its production of Edward Albee's "A Delicate Balance" is any indication, Remy Bummpo Theatre Company's 2004-2005 season is sure to be extraordinarily thought provoking.