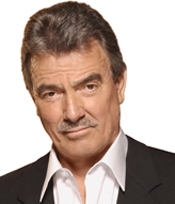 The Emmy Award-winning Eric Braeden is doing something unprecedented. He is taking a five-week break from his 27-year stint on the daytime drama The Young and the Restless to star in a feature film, the Western The Man Who Came Back. Written and directed by Glen Pitre, the film is set in 1870s Texas during a little-known but significant labor strike. Braeden also serves as an executive producer — the first time he has worn that hat. Speaking with a slight accent, the German native (born Hans Gudegast, in the port town of Kiel) asserts he is fulfilling a dream that has been thwarted for some time. "I don't want to be more specific, but 'forces' have been trying to keep me from doing what I wanted," he says cryptically. "Of course, I can't prove this."
Braeden makes it clear he has no regrets about his almost three-decade gig as the ruthless Victor Newman on Y & R. The 34-year-old show has been the No. 1 soap for 18 years, and Braeden has every intention of returning to it when the flick's shooting ends. Besides the obvious financial benefits, he has come to respect daytime drama. "It is the hardest medium there is," Braeden asserts. "Try learning 30 to 35 to 40 pages of dialogue a day and then doing it in one or two takes."
Still, he concedes, when he landed the plum soap role in 1980, he had reservations. As a young actor he envisioned himself in serious stage plays and the films of such auteurs as Ingmar Bergman, Federico Fellini, and Costa-Gavras. "That first year in Y & R was difficult," he recalls. "I was averse to the commercial aspects and the publicity. These attitudes I now view as bullshit. I changed my mind about all of it when I realized to what extent Y&R entertained millions of people around the globe. We were making so many people happy. It was touching."
The Young and the Restless has a daily audience of approximately 120 million worldwide and can be seen in about 30 countries across the globe, including Australia, Belgium, Denmark, Finland, Greece, Holland, Ireland, Israel, India, Italy, Jamaica, New Zealand, Romania, and Trinidad and Tobago. Braeden's international exposure has a major virtue, he points out. It has given him the chance to voice his cultural and political opinions — "responsibly, of course" — and be heard. During the phone interview, he talks about environmentalism, the impact of feminism on television, and President Bush, whom he views as just another "cold neocon who was never in sports, never in a war, never had the normal experiences of a man who knows how to kick ass or have his ass kicked," he says. "So he shouldn't be in a position to make decisions. If you're not in the trenches or in the sporting fields, then you grow up with a delusional sense of omnipotence."
The Continental-looking (and -sounding) Braeden knows something about the sporting fields. In 1958, one year before immigrating to the States, his high school team won the National German Youth Championship, with Braeden earning victories in discus, javelin, and shot put. And in 1973 he helped win the United Soccer Leagues national championship for the Maccabees of Los Angeles. "I was the token German on a largely Jewish team," he notes.
His years as an athlete have helped him as an actor. "In sports you learn to compete," he says. "You learn how to perform under pressure. When the coach says, 'Do it,' you do it. You learn how to come back from defeat by not repeating your mistakes. On the other hand, for the athlete it's all about winning and losing. Life is not as clear-cut. It's a little more ambiguous. That's why many athletes have difficulty with life. Playing a sport offers some interesting lessons to the actor."
Sporting Talent
One thing is certain: Braeden's athleticism has had a direct impact on his career. Consider the chain of events: He was a champion athlete in Germany, skillful and strong. As a struggling young man in America, he worked physically demanding jobs, including lumber-mill hand and cowhand, which brought him first to Texas and then to Montana. His sports ability earned him a scholarship to Montana State University, where he and a friend became the first men to successfully travel the length of the Salmon River and back, the adventure on the dangerous rapids serving as the basis for a documentary, The Riverbusters. To promote the film, Braeden made the rounds on the Los Angeles talk-show circuit, which brought him to the attention of agents who saw him as a highly marketable actor. He was soon being sent out on auditions, and it didn't take him long to land TV guest spots. "I've always done cold readings very well," he says.
His big break, however, was being cast as the German heavy (whom Braeden nonetheless managed to make appealing) Captain Hans Dietrich on the World War II series The Rat Patrol. The 1966 show became a hit, and Braeden's career was launched, leading to stage appearances (including a 1966 Broadway stint in The Great Indoors) and more than 75 TV guest spots, including Charlie's Angels, Gunsmoke, and The Virginian. He has guest-starred on the TV shows The Nanny and Hope & Faith. He also appeared in the 1997 blockbuster Titanic, in which he played John Jacob Astor. When he shot Titanic, he was simultaneously working on Y & R, flying back and forth between Mexico, where Titanic was shooting, to Y&R's Los Angeles studios. "I would have been in more scenes in Titanic if I could have gotten away," he says with just a hint of irritation. The movie that continues to have special meaning for him is the 1970 sci-fi thriller Colossus: The Forbin Project, which he admires for its prescient view of computers. "This film was way ahead of its time," Braeden says.
If he had his druthers, he'd be doing only scripts that have heft, he says, noting that The Man Who Came Back — tentatively slated for a 2008 release — fills the bill on several levels, not least its depiction of a power struggle in post-Civil War Texas that has contemporary resonance, coupled with primal characters. Braeden plays a ranch overseer who is falsely accused of killing a man. He escapes, but his wife and son are killed in the process. He later returns to exact his revenge. The cast includes Armand Assante, George Kennedy, Billy Zane, and Sean Young. "I'm drawn to characters who have a wellspring of anger and the need to get even with those in power who abuse that power and hurt innocent people," Braeden says. "That's something I'm comfortable playing. I can nail that."
Braeden traces those feelings to the loss and rage of his early years. He recounts growing up during World War II, a time of devastating horror in Germany. "There were bombings every night and day. I saw buildings collapse, animals in flames, and people dying in the street. I remember rushing to the basement for shelter. Though my father was not in the war, many people we knew were killed. That affected him greatly. When I was 12, he died suddenly of a heart attack. Maybe it was an embolism. I believe the war played a major role in that.
"His sudden death destroyed my world," Braeden continues. "Not only were we plunged into poverty, but my sense of justice and injustice, fairness and unfairness — ideals that my father had instilled in me — were also destroyed. I was a very angry kid; I got into fights with other kids, threw tomatoes at the Allied tanks as they rolled into town, and I never understood why my father had left us. From that time on, I was on my own."
His father's death continues to haunt him. When he came to the States, the wound was still raw. Traveling to a new country was not an escape from his father's painful absence; it represented a new life and a degree of freedom.
Interestingly, Hollywood played little role in his desire to emigrate, though "Clark Gable was an early hero of mine," he says. Once in America, however, Braeden was drawn to the "figures of cultural revolution, such as [Marlon] Brando, [Elvis] Presley, and Louis Armstrong." For Braeden, they were the avatars of liberation.
At Montana State University, Braeden considered a career in politics and international diplomacy but was drawn to theatre, especially dark plays that showed characters in conflict. "In addition, I was fascinated by the idea that actors could live another life than the ones they were in," he says.
He never studied acting formally and doesn't view it as a loss. At the suggestion of Geraldine Page, Braeden attended a Lee Strasberg class and walked away with the sense of "a diminutive little man jerking off," he says bluntly. "But then I often feel that's true of acting teachers. They're very powerful, taking advantage of the most vulnerable."
Over the decades, Braeden learned his craft by working with such luminaries as Brando, Dennis Hopper, Bette Davis, and James Earl Jones. The actor he most admired was Brando, star of the 1965 film Morituri, which Braeden appeared in. "[Brando] was a heavyweight fighter, almost a sociopath," Braeden muses. "He didn't care what people thought about him. He danced to the tune of his own drummer. He just didn't give a shit. He was born that way. He had innate power." On Laurence Olivier: "I never found Olivier to be a real actor, though his Richard III was very good. His Hamlet was not as good and his Archie Rice was interesting but not real." On John Gielgud: "He was total artifice. He just bored the shit out of me. Americans are just bamboozled by the British. Marlon Brando acted rings around John Gielgud." A Moral Man
Braeden is a man of strong views and is as committed to concepts of right and wrong as he is to his art. Case in point: As a German who grew up in Germany during the Holocaust, he says, "I'm keenly aware of our legacy. I have a deep sense of shame and guilt and wanted to right wrongs. I feel great anger on behalf of the German Jews who were killed, as well as the survivors." Braeden is a supporter of Israel, and in 2005 he participated in the March of the Living, an annual memorial march from Auschwitz to Birkenau.
Braeden has also been recognized by Germany for his efforts at bridging cultures and forging an improved image of Germans. In 1989 he was the only actor chosen to join the newly formed German-American Advisory Board, which has included Henry Kissinger, Katharine Graham, and Alexander Haig. His endeavors were also recognized May 12, when Braeden received the 2007 Ellis Island Medal of Honor, bestowed on immigrants of note.
Still, it's his Y & R tenure that put him on the map; he has earned eight Emmy nominations and the 1998 Emmy Award for his performance on the show. Looking back, he feels especially gratified with Victor's evolution and the backstory Braeden has developed for him. "For a long time, he was only a bad guy, devoid of humanity," the actor says. "But the writers now have allowed me to create a self-made powerful figure who came up from deprivation and could easily have become a social misfit but instead became a powerful man as a form of compensation."
Braeden also talks about cultural changes reflected on television, including feminist values. While he's all for feminism, its expression on the small screen does not represent equality between the sexes. "What we're seeing is the de-balling of men, and I find it obscene," Braeden argues. "Why are dads always the idiots? There's no reality. There was one Y&R scene where a daughter was slapping her dad. I said, 'This is ridiculous.' In the real world, hierarchy exists, though many people want to deny it. Why are we pretending? At Y & R, I'm pleased to say we're now vigilantly watching out for this kind of thing." He adds that he'd love to see daytime drama touch on such issues as smog. "Like infidelity, at least it is real. Still, I know the purpose of these programs is to entertain, and there's nothing wrong with that either."
Braeden's colleagues praise him. Lynn Latham, Y & R executive producer and head writer, notes that Braeden "brings dignity, seriousness, and a sense of duty to his work that anchors the show. His power and reality on screen hook the viewers in. Anytime I'm thinking about major story-line changes that affect Victor Newman, I will sit down and discuss it with Eric. He always has such interesting ideas that give the character depth."
The Man Who Came Back director Pitre agrees that Braeden's presence has "sustained and anchored Y & R, in addition to almost everything else he has appeared in. With one look Eric can evoke a range of emotions. As an actor, his biggest challenge in The Man Who Came Back is to suggest that primal urge for revenge, yet not be a monster. Eric has done that." Pitre adds, "As an executive producer, he is very hands-on, intimately involved in the storytelling, insisting on historical accuracy, as well as being an entertainment. Eric is quite a taskmaster. He is specific in his notes, stubborn, sticks to his guns, and makes everyone around him rise to the challenge."
Braeden is grateful for the chance he's had to work on the film; the prospect of returning to Y & R is okay, too. Asked if he ever foresees a time when he'll leave the soap, he responds, "I've learned never to prognosticate. Y & R has been very good for me."
Asked what he'd be doing if he weren't acting at all, his answer is startling — then again, maybe not. "If I were not an actor, I'd be helping people in some way; perhaps I'd be in medicine," he says. "I always had a special admiration for Albert Schweitzer, who worked in a leper colony. That touched me deeply. There is an essential part of Christianity — helping the poor — that has always inspired me: the priests and pastors who are the true believers who go into dangerous parts of the world to do good. I've also been very taken with the Christian notion of forgiveness."