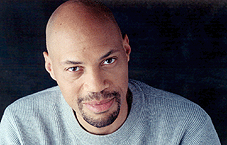 After six published books, several acclaimed screenplays, a hit Internet series, and various other projects for outlets such as NPR and AMC, John Ridley is explaining why he chose to write and produce his first play. "One, I love to write," he says simply. "Writing in Hollywood has afforded me a lot of really nice things financially and professionally. But it's really hard to be a writer for movies. It's hard to get a movie made, and it's hard to have the ideas you started with end up as the ideas you didn't start with." He has been very open about some of his past disappointments: There was a publicized battle for story credit for the film Three Kings that was "not a happy situation," and though he received a screenwriting credit for the hit comedy Undercover Brother (adapted from the Internet series he created), he deems it "a horrible experience."
Make no mistake, Ridley is proud of the films and his involvement, but the experiences left him seeking more control over future projects. To that end, he has written and is producing Ten Thousand Years, opening Feb. 5 at the El Portal Theatre in North Hollywood. Directed by Alberto Isaac, the play centers on a group of Japanese kamikaze pilots training for suicide missions near the end of World War II. It was an idea he had been developing for years. "I wrote the original draft almost eight years ago," he recalls. "At the time I wrote it, I certainly wasn't where I am today, professionally speaking. It took me a long time to get this going, and in a way I'm glad for that, because I think I'm a much better writer than I was seven or eight years ago. And the play is far superior because of the process and my own experience of being older." Ridley points out that the mediums he's more familiar with--writing books, TV scripts, and screenplays--have never taken him this long. "If someone told me to write a movie, I could go off and do it in a couple of weeks," he says. "That doesn't mean I don't care about it, it just means that I have that skill set and know what it takes. To write a play, I needed those eight years. I really did."
Ridley majored in East Asian languages and culture in college, and his wife is half-Japanese/half-Okinawan, so he comes to the project with some knowledge of the subject. Ten Thousand Years is based on true stories he had read that touched him deeply, and it was written from the desire to portray a point of view not usually seen in America. "You never saw films produced during the Second World War that showed any sympathetic Japanese characters," says Ridley. "They were all bad. Having studied the culture, I saw all the nuances and beauty of it. So, to me, I wanted to put on a face on these people and tell a story most people don't know."
As to why he chose theatre as his medium, Ridley says it was mostly pragmatism. "If you go around town and pitch, saying, 'I want to do a period piece about Japanese soldiers during the Second World War told from their point of view,' nobody's going to buy that," he explains. "So I have a choice. I could either try to pitch that, or I can say, 'Here's a medium I don't normally work in but seems to be incredibly challenging. Why not accept that challenge?' There is no failure in trying."
From Standup to Up Top
Ridley began his career as a standup comedian, but his big break in the industry came when he began writing for television. "I had a friend who worked at an agency who knew an agent," he recalls. "People always try to get agents, and I always tell them, 'Don't get an agent; talk to an assistant.' Everybody knows somebody who knows somebody who works for an agent. Go to the lowest level you can get, because those people are accessible." As an example, Ridley points out he doesn't have time to read anything sent to him, but if his assistant brings it to him, he'll take a look. "So forget the agent," he says. "They don't have time, and in some ways you don't want them to: You want them out there, working. And the assistant wants to be an agent, so they're going to work it for you."
Ridley's first job was as a staff writer on the television show Martin, and then he went to work on The Fresh Prince of Bel-Air. He's worked steadily ever since. "It was weird; once I started writing for television, the work never stopped," he says. "I've been very fortunate. I really love to write, so, whenever I had downtime, I was working on scripts or manuscripts. It was never hard for me." He was soon writing and producing for series such as Third Watch and creating shows such as UPN's Platinum, which was co-produced by Francis Ford Coppola and Sofia Coppola. He also penned several acclaimed novels, such as Stray Dogs, which formed the basis for the Oliver Stone film U-Turn. Somehow he has also found the time to contribute as a commentator to NPR, most notably covering the 2004 presidential election.
Currently he hosts Movie Club With John Ridley, a weekly movie-review series on AMC. He is also producing a series version of the hit film Barbershop for Showtime and will direct the pilot. Asked if there's any job he hasn't tackled, he laughs. "Anytime I have freedom, that's where I'll put my energy," he says. "I've been very lucky in that a lot of people said, 'Here's a guy who's got some talent.' And they gave me a chance to fail. Now I'm in a place where I can give other people a chance, and it's worth the whole Hollywood trip to be able to tell an interesting story and give a lot of people a great opportunity."
Fair Weather
Asked about the downside of the business, Ridley returns to his frustrations with the final product. "Lack of control is really maddening. It's just infuriating. If every film that came out was terrific, a Fargo or a Traffic for example, it would be great, and I'd shut up," he says. "But things are so arbitrary, and no one knows what's going to be a hit. What's frustrating is when people pretend to know every single thing. People get on the phone with me and say, 'You're a great writer, we love your work.' Then they pay you all this money, and you hand in a draft, and [then] they just tell you how stupid you are."
It was these experiences that motivated Ridley to mount Ten Thousand Years, after failing to get a response from the company he first sent it to. "Doing this play really matters, because it's going to go the way I want it to go out," he says. "Whether people love it or hate it, it's going to be my way. And I don't mean that in an arrogant way, just that the words are mine." Although the show hasn't opened yet, would he consider another play in the future? "Well, when I finished Ten Thousand Years, I thought that was it," he admits. "I don't know that I have anything else that's honestly worthy of trying to put onstage. But recently there's been one story that I think could be interesting." Still, Ridley maintains that playwriting is one of the toughest jobs he's tackled. "I've seen plays that have gotten great notices and won Pulitzers, and I sit through them and go, 'Jesus, that's it?'" he says. "And then there are other pieces of theatre that are so delicate and well-constructed, like a snowflake. And I think, 'I can't make snowflakes.' So I'm torn. I guess I'll see how this goes." BSW