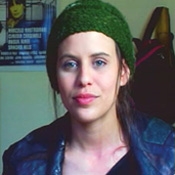 Luring sizable audiences into Off-Off Broadway theatres to see brand-new plays featuring up-and-coming talent is a challenge. But convincing New Yorkers to come to a nearly 100-year-old play performed in Yiddish by an aged cast? In the midst of one of the worst snowstorms on record? That may be downright impossible.
But that's what veteran Yiddish theatre actor Zypora Spaisman and her company face in Dan Katzir's documentary Yiddish Theater: A Love Story, a chronicle of then-84-year-old Spaisman's 2000 production of Green Fields at the Mazer Theater on the Lower East Side.
Peretz Hirschbein's 1916 play, set in an Eastern European shtetl, was a classic in the many Yiddish-language theatres that were wildly popular in the Jewish community in early-20th-century New York. Yiddish-theatre superstars were known throughout the world, and performers including Mel Brooks, Fyvush Finkel, Tovah Feldshuh, and Walter Matthau got their start in those grand theatres. The genre even spawned one of the first performers' unions, for Jewish actors, a predecessor of Actors' Equity Association and the American Federation of Television and Radio Artists.
"It's a language that's considered dead," said Israeli actor Roni Neuman, who learned Yiddish phonetically in order to play Tsine in Spaisman's Fields. "In Israel especially, it's not popular, because in our memories it's connected to the Holocaust and to old age. It's connected to death. But I always loved it because my grandparents spoke it in front of me all the time. To me, it was beautiful to see how this language comes alive. ... You talk in it; you laugh in it; you flirt in it."
New Age
In following the ups and downs of Green Fields' production -- including a desperate search for new investors and attempts to fill empty houses despite a rave review in The New York Times -- Katzir reveals an intimate, inspiring portrait of Spaisman, an artist literally acting to stay alive.
"[To] retire is a death sentence. People have to live," Spaisman says in the documentary. After more than 40 years at the Folksbiene Yiddish Theatre -- where she performed, swept floors, sold tickets, and served as artistic director -- she was reportedly asked to retire. But rather than fade, she started her own company, the Yiddish Public Theater, with fellow vets Shifra Lerer and Felix Fibich. Unfortunately, Fields was its first and last production. Spaisman died in 2002.
Neuman was a 22-year-old recent graduate of the American Musical and Dramatic Academy in New York when she saw the casting notice for Fields in Back Stage. She said acting opposite the vibrant actors in their 80s changed the way she approached her craft, personally and professionally. "In a professional aspect, I got to meet and know some old-school actors," she said. "It was very interesting to see how they act and how acting keeps them young."
Neuman, who now performs with an improv troupe in Tel Aviv and tours Israel with her solo show, said the documentary is not only about Spaisman's lifelong love of theatre but also about the importance of pursuing one's art at any age. "I think it's about the battles of old age and youth. My own grandmother decided not to do anything after my grandfather died...and she became old. And these 80-year-old girls, they're dedicated and they go out," she said. "I know a few 30-year-olds who don't do anything. I think they're older than Zypora."
'Yiddish Theater: A Love Story' is currently playing at select Los Angeles-area theatres, including Laemmle's Sunset 5 in West Hollywood, and will soon open in Queens, N.Y.; Fort Lauderdale, Fla.; and in other theatres throughout the United States. For more information, visit www.yiddishtheater.net.
Lauren Horwitch can be reached at lhorwitch@backstage.com.