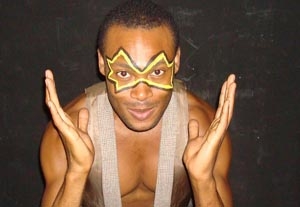 Irma Sloan is doubled over with laughter as Lysander fumblingly attempts to kiss Helena, and lands one on Demetrius instead. The two spit and look cross, and Sloan, who later declined to give her age—only the year she graduated Wadleigh High as 1946—is still rapt and giggling, looking onto the stage at Countee Cullen Library in Harlem. Sloan only landed at this Pulse Ensemble Theater production of "A Midsummer Night's Dream," when her friend came across a flier at the library for a performance that very night.
While Sloan and her friend, Wilhelmina Brown are doubled over, a look around the Countee's auditorium brings one word to mind—sparse. The set is sparse, only three house plants and a table, the chairs are sparse, the lighting is mere illumination, nothing to set the mood or highlight an actor.
The Pulse Ensemble Theater, which usually performs its free productions at the Riverbank State Park, is touring all over Harlem this year, with six locations and a total of 13 performances. The entire production, including the set, props, and costumes for 19 cast members fits into one hatchback Subaru and a Ford Festiva.
So while the actors are almost all professionals and the Pulse is based in midtown Manhattan, the company acts as a summer community theater for Harlem. They cater to  the community, by "falling in its lap" as Alexa Kelly, the Pulse's artistic director puts it, with free performances across the Harlem area, and one jaunt downtown to Governors Island.
While the stage is largely bare, Titania dreams on a small wooden table before she sets loving eyes on Bottom, and the four lovers cavort around a stage only eight feet deep. The play remains a physical comedy, accessible to the audience through the high energy comedy, and modern street-clothes.
The free-admission is not a special feature for these recessionary times. This is the price  the Pulse has maintained since its inception of Harlem Summer Shakespeare five years ago. Kelly concedes the free tickets are her "the biggest headache," but proudly points out she compensates her actors despite the deficit the theater runs up.
As if we needed a reminder of the price of entertainment, Sloan speaks up noting "I never go to Broadway [anymore]."
"We have little children coming every single night," says Kelly, "And I think even if there was a fee, even if it was only five dollars, I don't think they would be able to come."
The commitment-free nature of the Pulse's performances draws attendance from people who simply notice something happening at their park or library. The outdoor locations—with the exception of the library—and the price "means people can applaud and love theater. They can come, and sit, and enjoy, and go," says Freddie Bennett who plays Puck.
It's not all fake flowers and fairy dust though, the accessibility of the production—street clothes, physical comedy, and the free price—may bring out the Shakespeare lover in those who've never thought it possible, but production values don't waver in their starkness. Bringing a production of "Midsummer" alive with a paid cast of 19 actors, travelling around Harlem, seriously handicaps the theater's ability to offer a striking set or emphatic lighting. An active imagination is required to fill in the enchanted details.
The cast is a mixed bag of actors from recent arrivals to native New Yorkers, and personal trainers, teachers, and full-time actors. Teacher Michael Gilpin who plays Bottom has the luxury of donating his time during his summer break, while part-time actor Cara Maltz (Hippolyta) who is also a personal trainer is excited by receiving a paycheck.
"A lot of people don't like Shakespeare," says Maltz, and she asks people "Have you seen Shakespeare when people are engaging the words to the actions and the actions to the words?" She emphasizes how refreshing it is when a first-time Shakespeare audience is introduced to a play as physical as "Midsummer," and not alienated by talking Elizabethan heads.
"We studied this in school you know," says Wilhelmina Brown, adding that this Shakespearean play was always a little harder for her to understand on the page, "I said 'Look I can see the words spoken.'" Sloan adds "This is the first time I understood this play." The two locals suck on peppermints and gush to the cast about how much they enjoyed the experience, vowing to bring friends for Saturday's performance.
The Pulse Ensemble Theater's production of "A Midsummer Night's Dream" will continue to travel Harlem at the following locations:
St. Nicholas Park
Thursday Aug. 13 and Friday Aug. 14. 7 p.m.
Morningside Park
Tuesday Aug. 18 and Wednesday Aug. 19. 7 p.m.
Riverbank State Park
Friday Aug. 21 and Saturday Aug. 22. 6 p.m.
Clayton Powell State Office Building Plaza
Friday Aug. 28. 7 p.m.
Governors Island
Saturday and Sunday Aug. 15 to 16 and Aug. 29 to 30. 2 p.m.
(212) 695-1596 for more information.