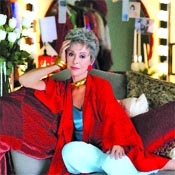 In her six-decade-plus career, actor-singer-dancer Rita Moreno has earned some of the rarest of honors. She was one of the first Hispanic actors to win an acting Oscar, for playing the fiery Anita in West Side Story (1961), and was among the first --and few --to wear the industry's quadruple crown, winning an Oscar, a Tony, a Grammy, and an Emmy.
Born Rosita Dolores Alverio in Puerto Rico in 1931, Moreno arrived on the mainland as a teenager and seemingly went straight to Broadway, debuting at age 13 in Skydrift. Sixty-three years later and still a tireless trouper, she's now bringing her cabaret show Little Tributes to Los Angeles. "I'm finally going to get to do this in L.A.," she says. "Why is there no real cabaret in L.A.? If you say cabaret to someone in the Latino community, they say, 'Let's go out and dance.' " Moreno has performed the show at the Café Carlyle and Feinstein's in New York and the Rrazz Room in San Francisco, where the San Francisco Chronicle said it "reminded the audience that while Moreno is very much a great singer, she's also a great actress."
"I do a lot of songs I love and some wonderful new stuff," she says. "I do a 15-minute piece from Sunset Boulevard. I played Norma in London. There are a couple of wonderful photos of me in that we put up on a monitor. The look is dramatically different from me. In fact, when I started to use the photos, I had to tell the audience it was me." Moreno calls this solo show "the very best one I've done," but that hasn't stopped her from planning another. The new one will debut at Berkeley Repertory Theatre, and she compares it to Elaine Stritch's autobiographical reminiscence–revue Elaine Stritch at Liberty --"that wonderful show," Moreno calls it --which ran on Broadway in 2002. "We have the first meeting on it next week."
In a lifetime of memorable and challenging roles, Moreno says the one that stands out for her is Maria Callas in Master Class, which she performed at Berkeley Rep: "It was an amazing role and a wonderful production because of the man who directed it, Moisés Kaufman. It was so brilliant that the Lincoln Center archive library came to film it. That was really unusual, because they already filmed the original production Zoe Caldwell did in New York. We were flattered and pleased that they decided to put this on film for the ages."
Though Moreno prefers performing live, there's also a warm place in her heart for the film that first brought her widespread public attention: Robert Wise's West Side Story. "Not too shabby," she says with a laugh. "The play was groundbreaking, but I think the film was even more so. The particular style of musical drama had never been done on film, and none with such classic voices." She recalls a particularly difficult scene, in which Anita is attacked and nearly raped by bigoted gang members:
"The scene consisted of the boys calling me terrible names like 'garlic mouth' and 'spic.' They threw me all over the room, and the attempt at rape was interrupted when Doc came in. It brought back terrible memories of my teenage years in New York. I burst into tears and couldn't stop crying. They had to call an early lunch so I could collect myself." But the payoff, she acknowledges, was a powerful scene. "Most people don't realize it," she adds, "but all through that scene, the jukebox is playing a distorted version of 'I Want to Be in America.' That provided a very ironic take on the scene."
Another of her favorite films is Alan Alda's 1981 ensemble comedy The Four Seasons, with Alda, Carol Burnett, Len Cariou, Jack Weston, and Bess Armstrong, about three couples on four vacations. "It's what I call my Christmas movie," Moreno says. "I always watch it that time of the year. It's such a wholesome movie, because it's all about relationships, so true to life about what happens in friendships. Alan tried very hard to write a sequel and finally said he just couldn't, that he had taken those characters as far as he could."
Moreno's career path has been similar to that of her contemporary Chita Rivera; in fact, they've often been up for the same roles. Rivera created West Side Story's Anita on Broadway, and in the long-running Forbidden Broadway spoofs, a parody of the show's song "America" includes the lyrics "My name is Chita and not Rita" and vice versa, implying a rivalry between the two. Is there one? "Oh God, no," says Moreno. "That skit is hilarious, but it's all in fun. We always go to see each other perform. She's a fabulous talent and a wonderful person, and I'm crazy about her brother Armando, who's her roadie and lighting guy."
Though she's thrilled by her myriad awards and believes that Latino actors have made considerable progress in the entertainment industry, Moreno says there's still a ways to go: "I don't think we've really caught up with the black population in film and TV. I was hoping my series Cain, with Jimmy Smits, would have a big impact, but unhappily, I think we were slotted in the wrong place on the wrong night. It broke my heart that it didn't last, because, boy, that was a wonderful cast." But don't think she's anything but grateful for her long career: "I'm so lucky to get paid for doing what I love most in life."
Little Tributes will be performed Feb. 19 at 8 p.m. at the Conga Room, 800 W. Olympic Blvd., Los Angeles. the Conga Room.