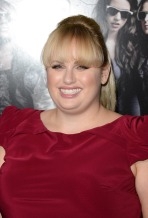 Actors looking for a good time should call Tim Payne and Lisa Ystrom. The duo at Payne/Ystrom Casting in Toluca Lake are the CDs for the new ABC pilot "Super Fun Night."
The show was originally set to be a multi-camera sitcom developed for CBS and been cast by Julie Ashton. It didn't make the cut, though, and instead found new life in a single-camera format at ABC.
The plot revolves around three friends, including Rebel Wilson (pictured) of "Bridesmaids" fame, who make a weekly Friday-night appointment to have the best-ever night on the town. It's being produced by Conan O'Brien with John Riggi signed on as showrunner. It starts shooting in November.
Another comedy set to shoot in November is Nick at Nite's "Instant Mom," which will be cast by Vickie Thomas. The plot centers on a 20-something party girl—set to be Tia Mowry of BET's "The Game"—who marries an older man with kids. The roles of the family are expected to be filled by African-American actors, according to Deadline.