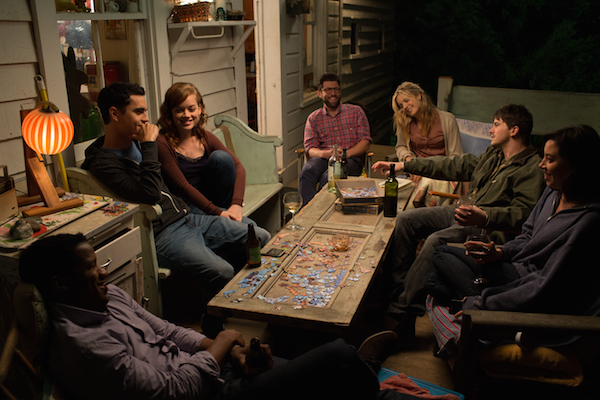 "About Alex," which premiered at the festival, tells the story of six friends who reunite after one (Jason Ritter) tries to commit suicide. Starring Ritter, Aubrey Plaza, Max Greenfield, Max Minghella, Nate Parker, Maggie Grace, and Jane Levy, the film looks at adult friendships in a time when hyper-connectivity (thanks to social media and technology) rules all, yet friends still manage to "slip through the cracks."
Greenfield (best known as Schmidt on Fox's "New Girl") said that the experience was an emotional one for him. "It was when Jason's character first enters the house, having come back from the hospital, and it was the first time in a scene seeing the bandages, and I went, 'I misjudged the movie. I didn't think it was gonna be so heavy. I can't do this for the next 30 days.'
"It was terrifying, but it was a real moment, and that was kind of like… I'm glad I had the day off the next day," he added. "It was one thing to read it, but it was another to get up, be in it, and see it. It was a very shocking moment."
Co-star Ritter agrees with the heavy reality of the film and felt playing a group of friends made the ensemble cast close off camera. "We got to such a point where we all did legitimately care about each other," he said. "There was one time, and it was in the scene where Aubrey's on the bed with me, and she keeps on asking me like, 'Are you OK? Is there anything I can get you?' and all this stuff, and at some point I just say, 'You need to stop asking me.' And she's just supposed to go 'OK, I just really care about you,' and when I said 'You have to stop asking me,' …I saw these tears spring to her eyes and all of a sudden I felt so loved and cared about and that she worried about me.
"There was nothing in the script about that, but it was just very sort of connected, and we all just bought into the reality of if something like this happened to you or a friend," Ritter added.
The film also discusses how social media (Twitter, Facebook, Instagram) affects personal relationships, which both Grace and Parker were able to discuss.
"As actors, it's such an amazing thing to be able to interact with fans that are the reason we get to do what we do," said Grace ("Taken"), "but on the other hand, your work as an actor is to be present, and to be in your body and in the experience, and so those two things are at odds sometimes, and you do have to stop and not be constantly addicted to this tiny machine."
It's that addiction that Parker believes is partly responsible for eroding connectivity between people. "Social media's about browsing," he said. "It's like a huge menu that you can get whatever you want when you want it, and then you can be done with it the second you want to be done with it. And sometimes we treat our relationships and the people we care about like that."