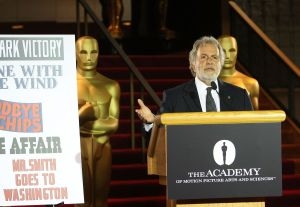 The Academy Awards will once again have 10 feature films vying in the best picture category, Academy Motion Picture Arts and Sciences president Sid Ganis announced Wednesday morning.
"After more than six decades, the Academy is returning to some of its earlier roots, when a wider field competed for the top award of the year," Ganis said at a Beverly Hills news conference. "The final outcome, of course, will be the same -- one best picture winner -- but the race to the finish line will feature 10, not just five, great movies from 2009."
For more than a decade during the Academy's earlier years, the best picture category welcomed more than five films; for nine years, there were 10 nominees. The 16th Academy Awards in 1943 was the last year to include a field of that size;
Casablanca
was named best picture.
The Golden Globes offers 10 best picture noms--five in comedy or musical and five in drama.
The 82nd Academy Award nominations will be announced on Tuesday, Feb. 2, with the Oscars show set for March 7 to be televised on ABC.