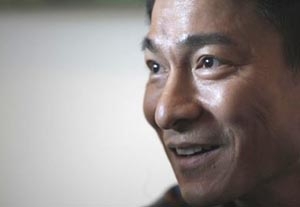 HONG KONG – Hong Kong has produced Chinese cinema's biggest names, but for this former British colony's actors and directors, the future now lies in the thriving mainland market.
One of the territory's biggest stars is no exception. Andy Lau is spending more time away from his hometown, shooting period epics in China and filling mainland stadiums with his national concert tours.
But the 49-year-old veteran actor-singer is trying to preserve the Hong Kong industry's identity by channeling his earnings to lower-budget productions that highlight the cultural heritage of this southern city, which returned to Chinese rule in 1997.
On Monday, Lau spoke with reporters in a bungalow-style home in the scenic suburban Hong Kong neighborhood of Clearwater Bay as he got ready to shoot scenes for one of his latest investments, "To Tse," which means "Big Sister Tao" in the southern Chinese dialect Cantonese.
The $4.6 million production directed by Ann Hui is about the scion of an aristocratic family, played by Lau, who belatedly bonds with a longtime servant for the family, played by veteran actress Deannie Yip.
"When I invest in a movie, people say, 'Aren't you afraid? Aren't you afraid of losing money? These aren't the hottest stars. These aren't the biggest productions.' There are many questions. But sometimes I take action because I am moved by the sincerity of the project or the script," Lau said.
"I really work very hard, work very long hours every day to earn my money. I do not spend my money foolishly. But I think it's worth it when I invest my money in a way that makes me happy," he said.
Lau didn't reveal his current per-picture salary on Monday, but director Andrew Lau, no relation, once revealed in a TV interview that the actor had charged nearly HK$10 million ($1.3 million) for the hit 2002 crime thriller "Infernal Affairs." Lau's fee has likely risen since then given the booming mainland market.
Lau said he was barely spending any time in Hong Kong these days, instead busy belting out his hits for mainland fans and capitalizing on his stardom among entertainment-hungry Chinese audiences that accounted for a total box office of $1.55 billion last year. Lau has been the front man for most Chinese blockbusters in recent years, most recently a remake of the kung fu classic "Shaolin" and the fantasy-mystery "Detective Dee and the Mystery of the Phantom Flame."
"It's been a long time since I experienced the atmosphere of shooting in Hong Kong," he said.
"To Tse" is Lau's second recent investment in a Hong Kong production. His production company, Focus Films Ltd., also backed the 2010 kung fu comedy "Gallants." "Gallants" was even cheaper than "To Tse," with a price tag of $642,000.
Their budgets pale in comparison to the expanding size of productions on the mainland. Another Hong Kong native, John Woo, returned from Hollywood several years ago to make the two-part historical epic "Red Cliff" in mainland China, which cost $80 million. But what they have in common is uniquely Hong Kong stories. "Gallants" combined a heartwarming and funny story of aging kung fu students staging a comeback with a throwback cast of 1970s and 1980s Hong Kong movie stars.
Lau's efforts have been warmly received in the Hong Kong community. "Gallants" was the big winner at the recent Hong Kong Film Critics Society awards, clinching best film and best actor for veteran Teddy Robin. It is up for seven honors at next month's Hong Kong Film Awards, including best film and best director.
"To Tse" also offers Lau the chance to repay a debt of gratitude to director Hui, who helped launch the actor's career when she cast him in her 1982 drama "Boat People," about a Japanese reporter who visits postwar Vietnam.
"I just think that I admire her principled approach to her work," Lau said.
Hui is one of the local directors who has sort of fallen by the wayside amid the rise of big-budget Chinese productions. She excels in Hong Kong-set family and domestic dramas that win critical acclaim, but struggles to find viewers on the mainland.
The 64-year-old filmmaker joked to reporters Monday that her career was nearly over.
"I am more or less done," she said as she laughed. When a reporter said she was a big fan of hers, Hui responded, "It doesn't matter if you say that. My box office results are poor. I hope the results are better for this movie."
Even though "To Tse" is clearly geared toward a Hong Kong audience, production executives aren't giving up on the mainland market either. In a sign of the changing economics of Hong Kong productions, publicists for the movie bused in about 20 mainland reporters for Monday's press call. Lau, Yip and Hui devoted a big chunk of the 90-minute event meeting with the Chinese press corps, reserving little time for Hong Kong journalists.
The cultural differences between Hong Kong and mainland China were also on display.
Lau and Yip, though fairly fluent in the national dialect of Mandarin, occasionally dipped into English phrases—a legacy of Hong Kong's colonial rule—before searching for the equivalent Mandarin term.
One mainland reporter questioned whether Chinese audiences could relate to the relationship between a wealthy man and his servant—given servants are a rarity for rank-and-file mainlanders, although now increasingly affordable for wealthy urbanites.
While mainland China is now enjoying the fruits of rapid economic growth after years of political upheaval and central economic planning, Hong Kong has long enjoyed a high standard of living thanks to its bustling port economy. Filipino maids and domestic helpers from other Southeast Asian countries are common among middle-class Hong Kong families, let alone the super wealthy.
---
Copyright 2011 Associated Press.  All rights reserved.  This material may not be published, broadcast, rewritten, or redistributed.