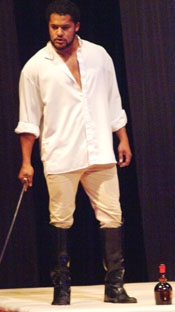 ATLANTA — At the first table reading for Georgia Shakespeare's Othello, Brandon J. Dirden was like any other actor: twirling words with his tongue, testing inflections, feeling out relationships between his character and the other characters. "I think we're going to have a good time and it's not going to be safe," stated the actor, who played the titular Moor in the production that closed Nov. 5. Several weeks later, bone-tired after Othello's opening weekend, he added: "I was relieved, to be honest, that the show had a shape to it.... I would have loved to have had more time."
No doubt Dirden said this because he was doing more than playing the title role. He had also adapted the play, trimming the Bard's lengthy tragedy into a taut two hours and change, a cutting that accentuated the theme of sexual jealousy and reduced the large cast to an essential six — Othello, Iago, Desdemona, Cassio, and a pair of actors playing multiple roles (Brabantio, Montano, and Lodovico; Emilia, the Duke of Venice, and Bianca). Gone were the senators, sailors, officers, and musicians. Gone, too, was Roderigo, the dupe who does Iago's dirty work. Making Iago directly responsible for cultivating the seeds of Othello's violent discontent made his villainy much more human, Dirden said.
Overall, it was quite a leap for a kid who grew up acting in Houston but went to Atlanta's Morehouse College to study chemical engineering and math, a kid actor without any use for Shakespeare. "I thought I was going to go to college and be discovered and get my own TV show," Dirden said. A stint with the Shell Oil Company convinced him to shun a suit-and-tie career, so he auditioned for graduate school, landing at the University of Illinois at Urbana-Champaign. Yet even there he steered clear of the bard, vowing "to do August Wilson for the rest of my life."
Well, he has yet to do a Wilson play professionally but Othello marks his third season at Georgia Shakespeare.
At 28, Dirden is a sturdy six-footer with chestnut eyes and a soft voice. Previously, he had done Othello — the play, not the character — at Shakespeare festivals in Utah and North Carolina. Indeed, a staging of the play at the Illinois Shakespeare Festival was the first professional production of Shakespeare Dirden ever saw. And while he respects those theatres by-the-book productions, he felt none found the piece's essence, none spoke to him as a young black actor.
"I'm more interested in telling the story for people who don't appreciate Shakespeare," he said. "For people who just want an experience in the theatre."
Tinkering Around
So in the summer of 2004, his first in Atlanta, Dirden began to tinker with the script of Othello. He recalled the summer he was 18, when he took part in the American Festival of the Arts in Houston and was taught by Juilliard students such as playwright David Auburn and Tony-winning actor Sara Ramirez. He and a pal did a scene from Othello — a confrontation between the title character and Iago, set in a pool hall, and for Dirden it was a revelation. "I said, 'You can do this with Shakespeare?' Okay!"
And that is the aesthetic Dirden aimed for with his adaptation. While working at Georgia Shakespeare that same summer, he asked several fellow actors to do a reading of his version of the script. Richard Garner, the company's producing artistic director, heard about the reading and asked to read it. He offered to produce it during an upcoming season — only if Dirden would play the title role.
"I thought it was a very tight, condensed telling of the story," Garner said. "It had a very muscular feel to it without any froth whatsoever. I thought the strength was how intense and focused it was. I was concerned about the absence of Roderigo and how that made Iago more directly involved with his own machinations [but] that fits fine with the overall feel of the cutting." It turned to be the first time Georgia Shakespeare had ever produced a script adapted by an actor, although it had done Othello once before, in 1997.
Dirden doesn't know if he'll ever take on such a task again. He knows no other Bard play as intimately as Othello, and this winter, when he and his wife, actor Crystal Dickinson, relocate to New York, he'll be back to focusing on acting.
But he would like his Othello done by other theatres — ideally in a black-box space with the actors and the audience eyeball to eyeball, as opposed to a Georgia Shakespeare proscenium. "I think the word 'adaptation' gives people a license to think out of the box," Dirden said. "I know I did. It was a journey I was happy to go on. I'd do it again."