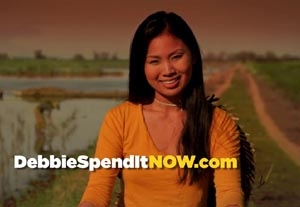 It should have been her big break, starring in a television commercial that aired during the Super Bowl. But one young actor has been hiding from a harsh spotlight after a controversial campaign ad for Republican Michigan Senate candidate Pete Hoekstra was shown to the state's voters during the big game last week.
The commercial was created to attack Hoekstra's rival, incumbent Sen. Debbie Stabenow (D-Mich.). But the ad, which featured an attractive Asian woman riding a bicycle past rice paddies and thanking Debbie "Spend-It-Now" for voting to increase America's debt and borrowing too much money from China, was widely criticized for being racist and xenophobic.
In the ad, the character says in broken English with a stereotypical accent, "Thank you, Michigan Senator Debbie Spend-It-Now. Debbie spend so much American money. You borrow more and more—from us. Your economy get very weak. Ours get very good. We take your jobs. Thank you, Debbie Spend-It-Now."
Hoekstra's ad was immediately the focus of a media backlash. "It's one thing for Pete Hoekstra to buy 30 seconds of television time to tell us, if he can, in clear English...what troubles him about this country's relationship with China," Lawrence O'Donnell said on MSNBC the night after the Super Bowl. "But it is quite another for him to hire an actor to do his dirty work for him." O'Donnell, a former actor and member of the Screen Actors Guild, then called for all actors to make a "pledge of simple decency," raising his right hand and proclaiming, "I will not play dirty politics. That means that you will not play a character in political ads that tell lies. You will not appear in political ads that cast you to play a racial stereotype."
O'Donnell reserved some of his strongest words to criticize the Asian-American actor, who he said was guilty of "happily personifying the racial stereotype that Hoekstra wants to deliver in the ad." He added, "I want to know exactly what she was thinking when she did it, and why she did it. It's not the kind of work that can help her career. There is no way the criticism she is enduring is worth it to her financially." O'Donnell concluded, "I have done things in show business that I'm not proud of, but I've never done anything that I am ashamed of."
Lisa Chan is the 21-year-old part-time model-actor who appeared in the ad. She recently graduated from UC Berkeley with a degree in sociology, and she also competed in the 2012 Miss California USA pageant. Although Chan had maintained her silence, her identity was revealed last week on the blog
Angry Asian Man
. Author Phil Yu wrote, "From what I understand, she feels terrible (and fearful of the fallout) over her participation in this ad. She's young, and I'm guessing she wasn't fully aware of how her image would be used." The offensive ad was removed from Hoekstra's website on Feb. 9 and replaced by a new video.
On Wednesday, Chan publicly apologized for participating in the ad. "I am deeply sorry for any pain that the character I portrayed brought to my communities," she wrote on her Facebook page. "As a recent college grad who has spent time working to improve communities and empower those without a voice, this role is not in any way representative of who I am. It was absolutely a mistake on my part and one that, over time, I hope can be forgiven. I feel horrible about my participation and I am determined to resolve my actions."
Chan certainly did not expect the nationwide negative reactions to her role in the ad , but others in the industry warn that actors should not be surprised when they are suddenly viewed not as a performer, but a spokesperson.
"However and whatever an actor is represented by in the media builds into the talent's brand image," Jess Jones, an agent at Grossman & Jack Talent in Chicago, said in an email to Back Stage. "If a talent finds a spot to be distasteful, in poor form, or against their ideals, they must be their own advocate prior to booking."
"On very rare occasions, the talent needs to know that they may become part of the political debate," Bob Kish, vice president and art director for The Strategy Group for Media, wrote in an email to Back Stage. The Strategy Group for Media produces political advertising, and Kish is responsible for ad production and creative content. "A candidate or opponent in his or her own words is always the most credible way to deliver a political message. However, candidates aren't skilled actors, so it's better to seek professionals when the script calls for real acting. Forcing a candidate to act can make him or her look silly and lose credibility with voters."
In 2010, a West Virginia Senate campaign ad from the National Republican Senatorial Committee, called "Stop Obama," was criticized after casting professional actors in Philadelphia to portray West Virginians with "a 'Hicky' Blue Collar look," according to the booking sheet for the shoot. Damian Muzani was one of the three actors in the 30-second spot, and he defended the job on ABC in October 2010. "You're looking at a product that a candidate is trying to sell," he said. "So when you go to a drugstore and buy a birthday card for your mom, your mom's not going to look at that card and say, 'Oh, I love the author of this card so much.' No. She's going to say, 'My son loves me.' Well your son didn't write the card. He paid someone to do it for him the right way. And that's what actors are supposed to do."