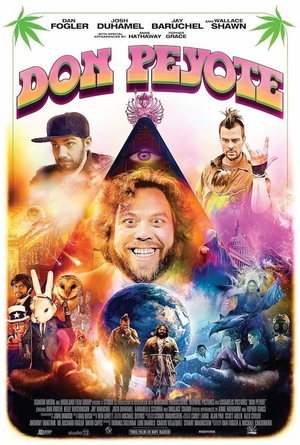 Dan Fogler ("Kung Fu Panda," "Hannibal," "Man Up") has been on the outskirts of the scene for some time now, but his new film, "Don Peyote" is pushing him into the limelight. Fogler tells the story of an unemployed stoner who becomes obsessed with 2012 doomsday theories with the help of cast mates Anne Hathaway, Jay Baruchel, and Josh Duhamel. He tells Backstage of his experience making the film.
I approached making "Don Peyote" as an actor first. I wanted to make something where I could flex some creative muscle, and show more of the spectrum of my abilities. Playing a party animal/nerd is fun, but, the real message here is you have to create parts for yourself if the parts you want to play aren't out there or coming to you. Period.
And anyone can be a moviemaker, nowadays, when you have a camera in your phone.
I will admit, now that the movie has taken, like, three freakin' years to make and is finally coming out…now I kind of wish I had approached the project from the producer's perspective, but I digress…
I had an idea. I had directed a film before and cast with friends and favors, so I would just do it again on a larger scale (and again with zero money)!
(Pssst! It helps with distribution if Josh Duhamel is your buddy.)
I got my creative partners together and said, "We'll just start shooting, and if we get gold, we'll raise money later." It was out of pocket, and guerrilla, and organic, and exciting. Come join the caravan kind of filmmaking. And, because I was wearing so many hats—writing, co-directing, acting, and producing—I had to create a philosophy for myself.
I just said "yes" to 99 percent of everything that was asked of me, and told myself we'd find the film in editing. And, nine times out of 10, we got gold. Whether it was from an amazing improvised performance, or an incredible costume or set piece, folks just want to feel free—to create and put their stamp on things—and if you let them, they give you their best stuff. And that energy is what attracted people to the film and made it grow out of thin air.
I would so much rather walk out on to a set and just act and have that be all I worry about, but because I've made my own movies from scratch, I have a greater respect for the captains running the ship when I'm just acting. And then it becomes more like playing, and that's what it should be, I think.
Now go see "Don Peyote!" It will change your life.
Inspired by this post? Check out our film audition listings!