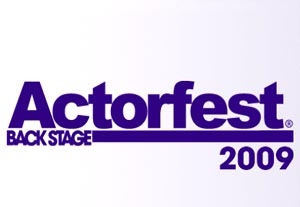 Anyone serious about being a performer attends ACTORFEST.
Once again, the largest expo specifically for actors, dancers and singers will take Los Angeles by storm this fall. The event includes intensive workshops and panels, a huge Exhibit Hall, casting calls, and casting director meet-and-greets.
ACTORFEST LA
takes place on
November 14, 2009
at the California Market Center in downtown Los Angeles. Participating casting directors include:
* Victoria Burrows,
Burrows/Boland Casting, "The Lovely Bones," "King Kong," "Cast Away"
* April Webster,
April Webster & Assoc., "Star Trek" (2009), "Lost," "Criminal Minds," "Alias"
* Francene Selkirk,
Shooting From the Hip, Commercial Casting Director for 15 years
* John Levey,
John Levey Casting, "Southland," "ER," "West Wing"
* Heidi Levitt,
Heidi Levitt Casting, "Lakeview Terrace," "The Rock," "JFK," "Natural Born Killers"
* Scot Boland,
Burrows/Boland Casting, "The Adventures of Tintin," "Death Race," "The Polar Express"
* Chris Game,
Chris Game Casting, Commercial Casting Director for 14 years
* Matthew Barry,
Barry/Green-Keyes Casting, "My Sister's Keeper," "Alpha Dog," "Rush Hour," "The Notebook"
* Mark Teschner,
Mark Teschner Casting, "General Hospital," "GH: Night Shift," "Port Charles"
* Jami Rudofsky,
Jami Rudofsky Casting, "Gilmore Girls," "Beautiful People," "10-8"
* Robin Lippin,
Meshel/Lippin Casting, "Life UneXpected," "Sex, Love & Secrets," "Lizzy McGuire"
REGISTER FOR ACTORFEST LOS ANGELES
See you at Actorfest!