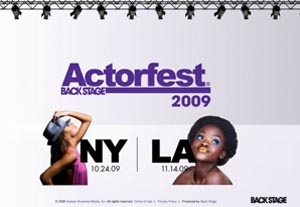 Casting director Billy Hopkins ("Precious," "Pineapple Express," "The Visitor") will be appearing at Actorfest NY on Oct. 24 as part of the panel "Auditioning: I Really Need This Job!"
In L.A. news, casting directors Sharon Lieblein (vice president of casting for Nickelodeon and Teennick), Craig Campobasso ("Picket Fences," "Gods and Generals," many indie films), and Stuart Stone (commercials) are confirmed to lead one-hour Focus Sessions with small groups of 50 actors or less at Actorfest LA on Nov. 15. Also leading sessions are CDs John Levey, April Webster, Francene Selkirk, Fern Champion, and Mark Teschner.
Visit
www.actorfest.com
for more information.