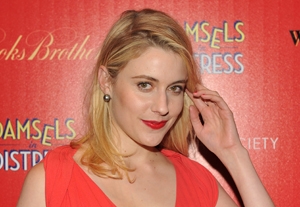 Greta Gerwig in 'Lola Versus'
Rising star Gerwig returns to Tribeca as the title character in "Lola Versus," about a New Yorker whose friends help her come to terms with being single after she is dumped by her fiance (Joel Kinnaman) just weeks before their wedding. The world premiere of "Lola" at Tribeca makes this year a three-peat for Gerwig; the indie ingénue began her film career in two "mumblecore" movies that screened at TFF—the Duplass brothers' 2007 "Hannah Takes the Stairs" and director Joe Swanberg's 2008 "Baghead."
She's come a long way since then, co-starring with Russell Brand in a remake of "Arthur" and opposite Ben Stiller in writer-director Noah Baumbach's "Greenberg." She recently reunited with Baumbach to shoot the pilot for his HBO adaptation of Jonathan Franzen's "The Corrections." Gerwig also had a supporting role in the Natalie Portman–Ashton Kutcher comedy "No Strings Attached" and currently stars in "Damsels in Distress," the first film in more than a decade from director Whit Stillman ("Metropolitan"). "Lola Versus" will be released in June, as will Woody Allen's "To Rome With Love," in which Gerwig has a supporting role. She also lends her insights to "Side by Side," a documentary that debates the merits of digital technology in cinema and the future of film; it premieres April 24 at Tribeca.

Ohad Knoller in 'Yossi' ('Ha-Sippur Shel Yossi')
He earned international acclaim and TFF's best actor award in 2003 for his lead performance as Yossi in "Yossi & Jagger," director Eytan Fox's feature based on a true story about two closeted gay Israeli soldiers. This year Knoller reprises his breakout role in "Yossi," Fox's sequel that finds the character leading a lonely existence until a chance encounter with a group of soldiers ignites his desire for a more open and fulfilling life. The April 19 world premiere of "Yossi" at Tribeca also marks the opening night of the 2012 World Narrative Competition section.
"Yossi & Jagger" launched Knoller's career after TFF hosted the film's U.S. premiere a decade ago. The actor has since starred in the popular Israeli TV series "Srugim" and landed small roles in American films such as "Munich" and "Redacted." TFF also hosted the U.S. premiere of Fox's film "The Bubble" in 2007, in which Knoller co-starred as one of several young slackers living in Tel Aviv.

Julie Delpy in '2 Days in New York'
Delpy has appeared in dozens of films since she began her career at 14, and the French actor, writer, director, producer, and musician has been a perennial film festival favorite since Richard Linklater's "Before Sunrise" and her own short film "Blah Blah Blah" premiered at Sundance in 1995. She has received two César Award nominations as an actor and one as a writer and was nominated for an Oscar in 2005 for co-writing the screenplay with Ethan Hawke for "Before Sunset," the sequel to "Before Sunrise."
As a European-bred artist who studied filmmaking at NYU and has made America her home since 1990, Delpy embodies the dual nature of Tribeca, which showcases a mix of global and homegrown offerings. She returns to the festival circuit this year as a writer-director with "2 Days in New York," in which she and Chris Rock star as a bi-continental couple facing a clash of cultures. Tribeca hosts the New York premiere of this follow-up to her feature-directing debut, "2 Days in Paris," which had its North American premiere at Tribeca in 2007.
For the full 2012 Tribeca Film Festival schedule and to purchase tickets, visit TribecaFilm.com.