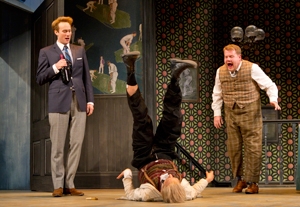 Great performances come in all sizes, and this year's featured acting
Tony nominees
prove that the Stanislavsky adage, "There are no small parts, only small actors," still holds true.
Among the featured performer nominees are Tom Edden, who silently steals a scene in "One Man, Two Guvnors" as octogenarian waiter Alfie; Jane Houdyshell, who brought down the house with a single song in "Follies;" and Elizabeth A. Davis, "representing the ensemble," as she says, for her turn as Réza in "Once."
"It is really a special skill to come on stage in a short period of time and have that kind of impact," said Heather Hitchens, executive director of
The American Theatre Wing
, which co-presents the Tony Awards with
The Broadway League
. "That may be the thing you remember the most. It can be a really tremendous turning point in the play."
Take Katie Finneran, who won the Tony for Best Featured Actress in a Musical for 2010's revival of "Promises, Promises," for example. While Sean Hayes and Kristin Chenoweth headlined the production, her two scenes created a reason to see the show.
"So many people I knew told me, 'Go see "Promises" and wait until you see what Katie does in the show!'" says producer Ken Davenport. "Whenever you can give potential customers something to talk about, you're that much closer to a sale."
However, New York Post columnist Michael Riedel argues that while any Tony recognition is a boon to an actor's career, not to mention marketing gold, the only awards that matter at the Tonys are best musical and best play. "People go to see plays to see famous actors," he says.
"The two things that help your career in a small part are being singled out by Ben Brantley in the New York Times for your turn, no matter how small, and being nominated for a Tony," he adds.
Comedic actors tend to have more success securing nominations for small parts, Riedel suggests. In addition to Finneran, Marilyn Cooper won the award for her short, but hilarious, turn in "Woman of the Year" in 1981. And this year, Tom Edden's repeated falling down the stairs is "the high point of the play," Riedel says.
"That's something that most of us who have been covering [Broadway] for a long time have really never seen before onstage," he explains, adding that he thinks Edden will take home the prize. "It's quite a technical feat. And it's pretty funny."
Solid material, old or new, is definitely a factor for actors to receive awards acknowledgment. In "Follies," Houdyshell sings the iconic ballad "Broadway Baby," and she stops the show with her character-driven performance of a cabaret-style song
"I'm in the moment," Houdyshell says of playing Hattie Walker. "I never think of it as a big number. I think of it as Hattie's song that she loves to sing. It's the joy of performing."
Liz McCann, who produced 1977's "Dracula," for which Frank Langella famously secured a leading actor nomination for his 17 minutes onstage in the title role, thinks Houdyshell playing against type is also a factor.
"She's basically known as a dramatic actress," McCann remarks.
However, actors like Christian Borle in "Peter and the Starcatcher" or Da'Vine Joy Randolph in "Ghost" have exponentially more time to shine than some of their fellow nominees. While the Tony nominating process is confidential, comparing these actors in the same category can be difficult. 
"We're always looking at categories and everybody has different opinions," Hitchens says, adding that there are no plans to add any categories at the time.
Regardless of recognition, actors on Broadway work hard, and while awards are nice, the work should be the focus.
"For anyone that is playing a small or a huge role, everything that happens on a stage has the potential to be beautiful and powerful and resonate with someone," Davis says.
"Try not to look at it as a small part," Houdyshell advises. "Take very seriously what function that character has in the play. Study the play as hard as if you had a larger role. Do your homework."

Suzy Evans is the Senior Web Editor at Back Stage. Follow her on Twitter:
@suzyeevans