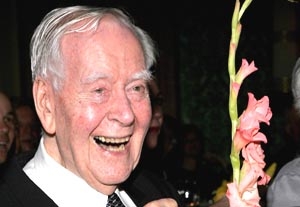 DURHAM, N.C. – John Doyle frets about plenty of things while directing his first movie. Bringing Horton Foote's final screenplay to life is not one of them.
"He tells you in the writing what he's trying to say so I don't feel intimidated by the lack of his presence," Doyle said in an interview on the first day of filming. "And oddly, because it's all in the writing, he is very present with us. He's very much here."
Foote won two Academy Awards (for adapting 1962's "To Kill a Mockingbird" and writing 1983's "Tender Mercies") as well as the 1995 Pulitzer Prize (for his play "The Young Man From Atlanta"). He died in March at 92, leaving behind the screenplay for "Main Street," which is set and being filmed in Durham.
The tale of an economically depressed town looking to a stranger for relief, it stars Ellen Burstyn ("The Exorcist," "Alice Doesn't Live Here Anymore") as Georgiana Carr, a tobacco heiress who finally rents a vacant warehouse on Main Street to Texas businessman Gus Leroy, played by Colin Firth ("Pride and Prejudice," "Bridget Jones' Diary"). Other stars include Patricia Clarkson, Orlando Bloom and Amber Tamblyn.
Doyle, who won a Tony for directing "Sweeney Todd" on Broadway, had been offered other films but they weren't quite right: unsuitable extravaganzas, he said, or "something I couldn't link my head to."
Finally, he chose Foote's "Main Street" for his movie-directing debut.
"Although it's a very finely crafted film script, there are proper scenes in it," Doyle said. "Often with movie scripts, there are four lines, and that's the scene. This has got speeches and dialogue and soliloquies, virtually. I'm comfortable with that because that's the world I come from."
He's also comfortable because of the cast, especially Burstyn, who appeared in two productions of Foote's "The Death of Papa" and one of "The Trip to Bountiful." This script, she said, is "very typically Horton."
"It's very subtle; it's not heavy on plot; it's character-driven," Burstyn said. "A lot happens, but it all kind of happens underneath the surface and there is an air of transcendence about it."
Firth describes his character, who uses the warehouse to store canisters of hazardous waste, as intriguing, mysterious and complex.
"His motives are not spelled out for you," Firth said. "And I'm always reassured by that in writing. I don't like seeing messages, not clear ones. I think there's something very truthful and ambiguous and there's something that resonates to me about it."
The actors and directors have changed next to nothing from Foote's script, Clarkson said.
"We honor him to the nth degree," said Clarkson, who plays Georgiana's niece, Willa. "There were one or two minor instances where we had to throw in a little something, but we have honored him and the beautiful characters he's drawn and his intentions ... his great sense of humor and his pathos."
The script's creation began about five years ago, when Durham native Thom Mount (the "Bull Durham" producer who's no longer involved in the project) and current producer Jonah Hirsch drove Foote around Durham, trying to persuade him to write a movie set in town. Although today's recession was years away, the local issue of losing tobacco as an economic force was topical.
Foote's daughter, Hallie Foote, said in a telephone interview that her father spent about a week in Durham, talking to residents and getting a feel for the town.
He had experienced a similar loss in his smaller hometown in Texas, she said. "In Wharton, things that were important at one time lose their importance," she said. "And what do you replace that with?"
---
Copyright 2009 Associated Press.  All rights reserved.  This material may not be published, broadcast, rewritten, or redistributed.