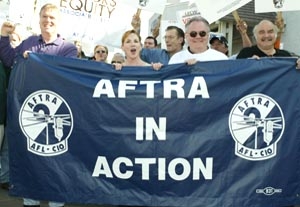 Anne-Marie Johnson, 1st vice president of the Screen Actors Guild, and two other longtime critics of the American Federation of Television and Radio Artists have been elected to AFTRA board seats, the union announced June 3. Johnson and Alan Ruck earned spots on the national board of directors, while David Jolliffe joined the board of AFTRA's Los Angeles local.
Johnson and Jolliffe have been especially vocal in their criticisms of AFTRA, charging that it is too malleable to management demands and that it offered lower terms to producers to gain a greater share of jurisdiction in basic cable. Johnson and other members of SAG's Membership First faction stumped against AFTRA's prime-time broadcast TV contract last year, but the pact was approved by 64 percent of voting members.
Johnson was also a key member of the SAG negotiating team that resisted for more than seven months an offer of a new TV-film contract from the Alliance of Motion Picture and Television Producers. She lost influence when a majority of SAG's national board fired Doug Allen as national executive director and chief negotiator and replaced him with David White as interim national executive director and John T. McGuire as chief negotiator. She is now part of a campaign against the tentative contract SAG negotiators agreed to with the AMPTP. Results of the membership vote on that contract were announced after Back Stage went to press.
In other AFTRA election results, actor Ron Morgan was re-elected president of AFTRA's Los Angeles local and was elected to the national board for a four-year term. AFTRA encompasses several disciplines, and each is represented by a certain number of seats on the union's various boards. Uncontested in their re-election to two-year terms as officers of AFTRA Los Angeles were 1st vice president Susan Boyd Joyce, a singer; 2nd vice president Gabrielle Carteris, an actor; 3rd vice president Bobbie Bates, a dancer; 4th vice president Jason George, an actor; recording secretary Patrika Darbo, an actor; and treasurer Jay Gerber, an actor.
Four Honored
: Actor George Takei, dancer Cheryl Burke, standup comic and storyteller Charlie Hill, and actor-writer-teacher Victoria Ann Lewis have earned Ivy Bethune Tri-Union Diversity Awards, which are administered by AFTRA, SAG, and Actors' Equity Association. Named for Bethune, a union member and civil rights activist, the awards recognize those who have "set an exemplary standard for creating a multicultural and representational community" within the arts world, according to a news release from Equity. The unions will hold a ceremony to honor the quartet June 29 at the David Henry Hwang Theatre, 120 N. Judge Aiso St., in downtown Los Angeles. Admission is free for union members; send an email to larsvp@aftra.com or call (323) 634-8262 to RSVP.