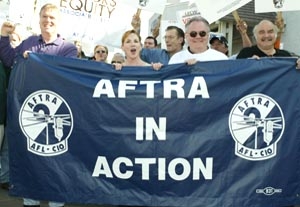 With a tumultuous two-year period in its rearview mirror, the American Federation of Television and Radio Artists is looking ahead to its next two years, with more profound changes in the offing as the union's relationship with the Screen Actors Guild continues to be redefined and new media remake the entertainment industry.
First up, however, is more of the same: National president Roberta Reardon is likely to be re-elected at AFTRA's next biannual convention, Aug. 6–8 in Chicago, because, as of now, she faces no opposition. Reardon was first elected to the position two years ago this month, just as the union's battle with SAG over jurisdiction in basic cable was erupting into a full-scale war and right before AFTRA was scheduled to negotiate no fewer than seven contracts.
All the contracts—most notably those covering broadcast TV (daytime and prime time), commercials, and sound recordings—have been dealt with, and AFTRA has, in some cases, emerged stronger than ever. Two years ago it had jurisdiction over only a handful of series on broadcast prime-time TV; this fall it will have more than 30.
Some of that is due to SAG's grand dysfunction, and some of it is due to better organizing. Now AFTRA hopes to turn those organizing efforts toward new media. Stressing the need for "more cohesion" within the union, Reardon told reporters July 10 that new media is "work that needs to be organized" and "brought under contract."
As for cohesion with sister union SAG in the form of a merger, Reardon reiterated AFTRA's longstanding commitment to the idea, but she wouldn't commit to restarting the process anytime soon. The two unions have tried to merge twice in the past 11 years (1998 and 2003) and missed each time, because SAG failed to reach 60 percent approval by its members. After a brutal internal battle of its own and a yearlong stalemate with producers over its TV-film contract, the guild is battered and hurting financially. Reardon indicated that before merger talks could begin again, SAG would need to get its house in order. "Before we go further," she said, "SAG needs to figure it out."