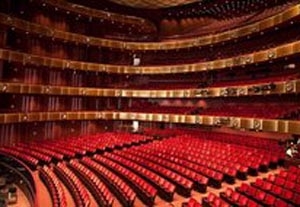 The American Guild of Musical Artists, the union representing New York City Opera's singers and production personnel, filed unfair labor practice charges against City Opera on Thursday. The guild alleges that City Opera and its artistic director, George Steel, broke the National Labor Relations Act requirement that the company bargain with AGMA in good faith.
Due to a $5 million loss, City Opera intends to produce a reduced season and vacate its home of 45 years, the David H. Koch Theater at Lincoln Center, the company said last week. The guild alleges that City Opera refused to negotiate or provide any information regarding the move. The company has not announced where future performances will take place, what pieces will be performed, or what its new budget will be.
AGMA will ask for an injunction in federal court to prevent City Opera from leaving Lincoln Center until the labor charges have been resolved. Both the charges and the injunction request have been filed with the National Labor Relations Board's New York Region.