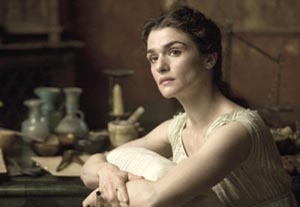 A studio-level budget, a bankable star and an Oscar-winning director are just a few of the commercial virtues of "Agora."
Alejandro Amenabar's English-language period pic, about religious clashes in Roman Egypt, stars Rachel Weisz and sports a $65 million budget (and effects to match). And you can now add Spanish blockbuster to the list. The movie bowed last weekend to nearly $8 million in Spain in just three days, and a $10.3 million cume. That's the country's best opening of the year, ahead of "Ice Age: Dawn of the Dinosaurs" and a slew of Hollywood fare.
So why hasn't a U.S. distributor touched it?
The idea-driven pic — it centers on the tension between religion and science — has sat without a deal since it debuted at the Festival de Cannes. Sales agent Cinetic tried again at last month's Toronto International Film Festival and met with the same guardedness, as buyers worried about marketability and audience.
Along the way, "Agora" has become a poster child for the kind of movies U.S. companies are wary of: an expensive, highbrow film that not only won't be made by studios these days but won't even be picked up, at a fraction of the budget, by a distributor.
"We know 'Agora' is not the usual popcorn movie, and we know times are tough and everyone's trying to be conservative," producer Fernando Bovaira said. "But we feel the story is very commercial and can cross to all ages and different types of people."
There have long been European hits that didn't cross over to North America. Tom Tykwer's period drama "Perfume: The Story of a Murderer" made $132 million globally but only $2 million domestically. But that pic was based on a best-seller that few knew about stateside. "Agora" has the look and feel of a U.S. prestige project.
Some have noted that the film -- which takes a skeptical view of early Christians as they battle with pagans -- could be a tough sell to a heartland audience, which otherwise might embrace a period movie with religious ideas.
Financiers and producers (the film is a joint effort form Spanish firms Mod Producciones, Himenoptero and Telecinco) were also are said, at least initially, to want a price commensurate with its budget.
But the receipts in Spain could lift some of the financial pressure and bring down the price -- while also convincing buyers of broader audience potential. "(The Spain numbers) are a great result that can't be ignored," Cinetic topper John Sloss said.
– Nielsen Business Media