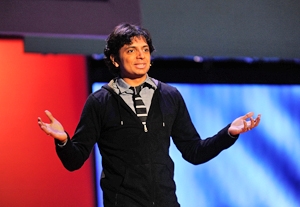 M. Night Shyamalan
may be the most successful nonwhite director in Hollywood, but it's the skin color of his lead actors that is threatening to derail his next movie.
When the filmmaker sat down with journalists last month to discuss his upcoming adaptation of the martial-arts fantasy cartoon "
The Last Airbender
," he defended the casting choices that have disgruntled many fans of the series and drawn the ire of activists. At issue: Three of the four principal roles—characters who in skin tone, facial features, name, and dress appear Asian and Inuit in the cartoon—have been filled by white actors. The fourth, to be played by Indian-British "Slumdog Millionaire" star
Dev Patel
, is a villain—and Patel got that part only after pop star
Jesse McCartney
dropped out of the project.
Shyamalan told reporters that he believes the film will be "one of the most incredibly diverse movies of all time" and claimed his only concern was casting the best actor for each role, regardless of race. When, in a follow-up conversation with
UGO.com
, a writer pointed out that the film will feature a villainous nation of Asians attacking nations led by three white heroes, Shyamalan replied, "It's called irony."
The vitriol directed at "The Last Airbender," which hits screens July 2, has been pretty irony-free. In the wake of Shyamalan's comments, the film's producer Frank Marshall wrote to UGO.com earlier this month to address what activists have referred to as the "smoking gun": a 2008 casting notice for the lead role of Aang that called for boys aged 12–15 of "Caucasian or any other ethnicity." Marshall acknowledged that the casting notice was "poorly worded and offensive" but disavowed any connection between it and the studio. The producer blamed the offensive language on an outside agency that handled background casting.
That claim does little to ease the offense that Guy Aoki, founding president of Media Action Network for Asian Americans, took at the notice. "If you're casting for a film in South Central L.A. and you say, 'Caucasian or other ethnicities,' how does that look?" Aoki asked. "It's crazy not to have Latinos and blacks in South Central. I think you can see there is a stated preference for white people over other ethnicities in the notice."
Best Practices
The Screen Actors Guild's suggested diversity guidelines for casting directors emphasize that notices should focus on an actor's range. "One guiding principle of casting notices should be that it is not about the actual race of the actor but about an actor's ability to portray the race [or] ethnicity of the character," said Adam More, associate national director of SAG Affirmative Action & Diversity. The guild also encourages CDs to include language stating a commitment to "diverse, inclusive casting" in all notices.
But the "smoking gun" is only one of several slights that activists say prove the production is racially insensitive. In a 2009 University of Pennsylvania student-newspaper article publicizing a call for background actors, Deedee Rickets, a casting director for "Airbender," is quoted encouraging prospective extras to dress in "traditional ethnic" attire, saying, "If you're Korean, wear a kimono. If you're Belgian, wear lederhosen." (Rickets was apparently confusing Koreans with Japanese and Belgians with Germans.) Later, a first-person account in the same paper quoted Rickets telling the crowd at the casting call, "It doesn't mean you're at a disadvantage if you didn't come in a big African thing. But guys, even if you came with a scarf today, put it over your head so you'll look like a Ukrainian villager or whatever." Rickets declined to comment for this article.
Another oft-cited incident involves one of the three white principals, Jackson Rathbone, whose character, Sokka, is dark-skinned and of apparent Inuit heritage in the cartoon. Last year, Rathbone responded to a question from MTV.com about concerns over his casting: "I think it's one of those things where I pull my hair up, shave the sides, and I definitely need a tan. It's one of those things where, hopefully, the audience will suspend disbelief a little bit."
Michael Le, proprietor of
Racebending.com
, has been unable to suspend his disbelief ever since the casting was announced. His site grew out of a
LiveJournal.com
page and a snail-mail campaign that saw more than 200 casting process–related letters to Paramount returned unopened. The
Racebending group on Facebook
now boasts more than 6,000 members, and the website's Facebook page has more than 2,000 fans.
"We're upset about how the production has conducted itself," Le said. "It goes back to not only the release of the casting notice, which specified Caucasian as a preference, but also several actions they've taken since then, such as ignoring advocacy groups, ignoring the petition and the consumers who would logically be the fundamental fan base and consumer base for the film when we came to them with concerns."
In his statement, Marshall touted the fact that Paramount has been "in regular dialogue" with Asian-American advocacy groups—citing Aoki's organization, MANAA, by name. But Aoki said contact has been less than satisfying and accused Paramount Film Group president Adam Goodman of reneging on a promise to show Aoki and other activists an early cut of the movie.
"If you look at the response the producers gave us, it was laughable," Aoki said. "Hollywood only cares about diversity when they want to have an excuse to have more white people."
Yellowface
Paramount has continued to defend itself and the film as criticism mounts. "In adapting an animated series as beloved as 'The Last Airbender,' we expect scrutiny throughout the process," a studio representative said. "Night's interpretation of the series reflects a myriad of elements that have made this series a global phenomenon, and we believe fans will respond positively to his depiction of the fantastical world of 'Airbender.' "
But critics—among them the film reviewer Roger Ebert, who wrote that fans of the cartoon "take it for granted that its heroes are Asian"—contend that the characters' racial identities were key to that "global phenomenon." Le and others believe that the white actors in the film are there thanks to a misguided attempt to appeal to white ticket-buyers. He ties "Airbender" to Hollywood's history of "yellowface" casting, citing Mickey Rooney in "Breakfast at Tiffany's," David Carradine in "Kung Fu," and the multiple white performers who played Charlie Chan. For a more recent example, he points to the film "21," which starred Kevin Spacey, Jim Sturgess, and Kate Bosworth as characters based on real-life Asian Americans. The issue of "whitewashing" has also surfaced recently in Hollywood in relation to characters of other races, such as in the casting of Jake Gyllenhaal in the upcoming epic "Prince of Persia."
Shyamalan, who declined through a representative to comment for this article, has said the characters in the "Airbender" cartoon are "intended to be ambiguous" in terms of race. The story, after all, is not set in China or Japan but in a fictional fantasy realm. But Le dismisses this line of thought.
"If you look how deeply these characters are rooted in Asian and Inuit culture, the question is whether or not there's a need to change the ethnicity at all," he said. "If so, then why white? Why not have a casting notice that reads 'African-American' or 'Latino'? Why release a casting notice that says 'Caucasian'? Why cast Caucasian actors in the three principal roles if not as a larger part of the history of Hollywood whitewashing films?"