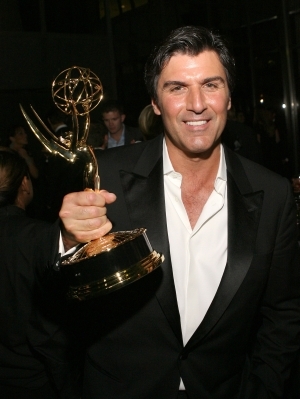 Nearly two years after their cancellations, ABC's long-running soap operas "All My Children" and "One Life to Live" could finally be coming back—to computer screens.

Prospect Park, the company that currently produces USA's "Royal Pains" and FX's "Wilfred," plans to resurrect both daytime TV properties as web-based series that are expected to begin airing in 2013. And at least one long-time "All My Children" cast member will be back in Pine Valley for the new online episodes.

Actor Vincent Irizarry wrote on his Facebook page last week that he will be returning to the role of Dr. David Hayward, which he played from 1997 until "All My Children" ended its run in 2011.

"Happy to share that I just signed on with Prospect Park for the 'All My Children' reboot," Irizarry wrote Dec. 28. "Excited to bring dastardly Dr. David back to life, as he did for so many others, and to see my dear friends in Pine Valley once again. A great, big thank you to all the fans for your tenacity in keeping the hope alive. You're awesome!!! Let's all keep our fingers crossed together that it becomes a reality."

Irizarry is crossing his fingers because the pair of defunct daytime dramas nearly found new life online once before. Prospect Park had come close to reviving both soaps online more than a year ago, reaching a deal with ABC in July 2011 and even securing some of the original ABC cast members, writers, and producers for the web versions. By November of that year, though, the project fell through and "All My Children" and "One Life to Live" were again left for dead. But now the production company has reached deals with SAG-AFTRA and the DGA and is in discussions with the WGA to resume production on both series in early 2013, with filming set to begin as early as January or February.

Talks with other cast members are still in the early stages, but in addition to Irizarry, Lindsay Hartley has reportedly signed a deal to reprise her role as Dr. Cara Castillo in "All My Children" online. And according to Soap Opera Digest, Prospect Park "has reached out to three other big name Pine Valley stars and has its sights on some OLTL biggies, too."

Soap Opera Digest also reported that Jennifer Pepperman is the new executive producer of the "One Life to Live" web reboot. Pepperman was previously a coordinating producer for "One Life to Live" and an Emmy- and DGA Award-winning director of both "One Life to Live" and "As the World Turns."

But will Prospect Park's plans to rejuvenate these two 40-year-old properties, more than a year after viewers last saw them onscreen, work on the web? ABC canceled both shows because of declining ratings and aging viewership—can enough of those older viewers now be lured to watch a web series instead? Will young women, once soap operas' target audience but a demographic that is increasingly less interested in daytime drama, start watching again? And is there any point at all if "All My Children" icon Susan Lucci does not return?

Still, there's hope. The four daytime TV soaps that remain on the air—"The Young and the Restless," "The Bold and the Beautiful," "General Hospital," and "Days of Our Lives"—have all shown improved ratings over last year.