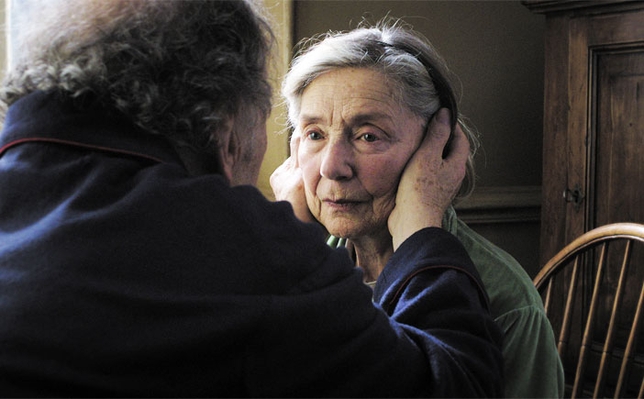 Michael Haneke's "Amour," up for five Academy Awards on Sunday, took home five prizes at France's César Awards, including best picture. "Argo" proved to be an awards juggernaut overseas, as well, winning best foreign film over such entires as Denmark's "A Royal Affair" and the Belgian drama "Bullhead." Iroinically, "Amour" is expected to win best foreign film at the Oscars, with "Argo" predicted to win best picture.
"Amour" stars Jean-Louis Trintignant and Emmanuelle Riva won best actor and best actress, respectively, for their portrayals of an elderly couple grappling with the wife's failing health. Riva is considered by many to be the dark horse to win the best actress Oscar at the Academy Awards. "Amour" also scored wins dual wins for filmmaker Michael Haneke, who has never won a César, despite three previous nominations. He collected both best director and best original screenplay--he is nominated for the same awards at the Oscars. Also faring well with four wins was "Rust and Bone," including best male newcomer for Matthias Schoenaerts, best adapted screenplay, best editing, and best original soundtrack for Alexandre Desplat--a nominee at this year's Oscars for his score for his original score for "Argo."
A full list of winners follows.
Best Picture
"Amour"
Best Director
Michael Haneke, "Amour"
Best Actor
Jean-Louis Trintignant, "Amour"
Best Actress
Emmanuelle Riva, "Amour"
Best Supporting Actress
Valérie Benguigui, "What's In A Name"
Best Supporting Actor
Guillaume de Tonquedec, "What's In A Name"
Best Adapted Screenplay
"Rust and Bone"
Best Original Screenplay
"Amour"
Best Art Direction
"Farewell, My Queen"
Best Cinematography
"Farewell, My Queen"
Best Costumes
"Farewell, My Queen"
Best Editing
"Rust and Bone"
Best Original Score
"Rust and Bone"
Best Sound
"Cloclo"
Best Animated Film
"Ernest and Celestine"
Best Documentary
"Les Invisibles"
Best Foreign Film
"Argo"
Best Short Film
"Le Cri Du Homard"
Best First Film
Louise Wimmer, "Cyril Mennegun"
Best Newcomer (Female)
Izia Higelin, "Mauvaise Fille"
Best Newcomer (Male)
Matthias Schoenaerts, "Rust and Bone"