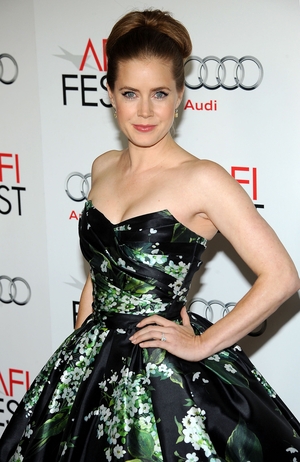 "I would really love to produce stuff for other actresses," Amy Adams, a favorite in this year's supporting actress race for her performance opposite Philip Seymour Hoffman and Joaquin Phoenix in "The Master," tells The Hollywood Reporter. "Everyone talks about producing stuff for yourself, but I'd actually love to do it for other actresses."
Adams joins six of this year's awards contenders— Anne Hathaway ("Les Misérables"), Helen Hunt ("The Sessions"), Naomi Watts ("The Impossible"), Rachel Weisz ("The Deep Blue Sea"), Marion Cotillard ("Rust and Bone"), and Sally Field ("Lincoln")—on the cover of THR this week for the publication's annual actress roundtable. The actors open up about fighting for roles, bad auditions, their fame, fears, and more.
"Fear is like the steam that fires the combustion engine," Weisz says of acting. "You need fear to get a performance going."
Hathaway says she was afraid to audition for the upcoming film adaptation of the musical, "Les Misérables." Although the film has not screened for critics or awards voters yet, she is already receiving Oscar buzz for her supporting role as Fantine—a part her mother understudied in the long-running stage show's first national tour.
"It made me nervous to tell her that I was auditioning for it, just because I knew how much it would mean to her," Hathaway says, "and I was worried that if I didn't get it, she would be disappointed, and if I did get it, it would be weird. And she was so cool about it. We talked about the character. And when I got the part, no one was happier for me." She adds, "It was amazing to have that conversation not with an acting teacher, not with a director, but with your mother."
Read the full roundtable interview at THR.com, and watch the video below: