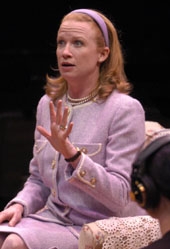 "Georgetown isn't as safe as it used to be."
WASHINGTON -- There is a show in Washington, DC, about the upper class of Washington, DC, with dozens of references to Washington, DC. Protected by a large black gate, Bill C. Ray's set of a Georgetown living room seems like a perfectly safe environment. However, playwright Wendy Wasserstein and director Molly Smith want to prove (and preach) to us that danger lurks right around Pennsylvania Avenue.
Wendy Wasserstein's "An American Daughter" isn't so much about politics than the crazy people who get mixed up in politics. Mother, doctor, professor, and Surgeon General Nominee Lyssa Dent Hughes (Johanna Day) represents the over-qualified political female who can be ruined in a five-second sound-bite. After political talk-show cowboy Timber Tucker (Alex Webb) accuses her of not responding to a jury duty notice, "jury-gate" suddenly gains mass-media attention. While Act One focuses on Lyssa's relations with friends and family, Act Two follows her climatic interview with Tucker on live television. The 1997 Broadway drama has endured substantial rewrites for the revival. Act Two now focuses exclusively on Lyssa, leaving other characters' conflicts completely unresolved.
Wasserstein's cast is filled with the kind of caricatures that you'd find on an NBC sitcom: the odd-ball psychiatrist husband (J. Fred Shiffman), the African American best-friend who's also Jewish (Gail Grate), the sexy feminist with a very nasal voice (Holly Twyford), the conservative Republican senator father (Robert Prosky), and a host of others. The show's humor comes not from the wit of the lines but rather the characters' who say them. Out of dramatic context, would you laugh at a line like "we want to come home to a warm penis?"
The Baby Boomer audience enthusiastically enjoyed the two hour and forty minute show which included Elvis sing-a-longs, dancing to Beach Boys records, sex jokes, Jewish jokes, and comments on marital infidelity. The cast succeeds in gaining laughs, and protagonist Johanna Day pleasantly preaches Wasserstein's messages. In Act Two, after attempting to reconcile her image on live television, Johanna Day unexpectedly rips off her purple headband as if she were Ms. John Proctor on her way to the media gallows.