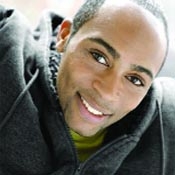 Even as a native New Yorker, actor Steven Leon doesn't know all the city's secrets. So when he created Actorscomfort last year, it wasn't just to help actors new to the Big Apple. He also wanted to help himself. "I saw that successful actors knew where to get the resources and how to use them," he says. "I figured if I could come up with a list of certain resources, I could help actors' success, including mine."
The website lists resources in categories including housing, transportation, employment, and health care. "I know people who are auditioning and getting work," Leon says, "but they're crashing on a friend's sofa. Or they're touring and they don't have health insurance. Doing it all can be the biggest challenge." As the challenges in his own career changed, he added other categories to the site. He needed day care, for instance, when he had a son three years ago, and he needed legal assistance for a problem with his paycheck. "I have sections for these things because people don't realize how much they need it until it's too late," he says. "And there's so much stuff that's already out there." In addition to updating the site regularly, Leon plans to add a blogging community for actors and offer a line of ActorscomfortNYC merchandise. In the meantime, here's a sample of the site's listings.
Housing: Actor Sublet is a new public database for actors and other artists in search of housing. Like Craigslist, anyone can browse the listings, but a small fee is required to contact the poster.
Transportation: HopStop provides step-by-step directions to anywhere in the city, with subway, bus, and walking instructions, plus an estimate of how long it will take to get there.
Employment: Leon toots the Back Stage horn (www.back stage.com) in the employment section; he also lists ActorsAccess.com, NYCasting.com, and many other sites.
Health Care: At the Woodhull Medical Center in Brooklyn, actors can take advantage of (the Artist Access program -- uploaded/healthfaqs.pdf), which charges income-based fees for health care. Currently available only at Woodhull, the program may eventually be offered at other public hospitals in the city.
Day Care: Through the Day Care Council of New York, parents can get referrals for affordable child care that suits their needs.
Legal Assistance: Volunteer Lawyers for the Arts provides free and low-cost legal aid to artists and arts organizations.
Networking: Actors Connect is a new social network -- like Facebook or MySpace -- tailored to actors. Members can create profiles, join groups, share casting info, and commiserate. Here are additional resources not listed on ActorscomfortNYC:
Theatre Tickets: The Theatre Development Fund is a nonprofit organization that offers affordable tickets to Broadway and Off-Broadway shows. It's best known for the TKTS booths -- in Times Square, at South Street Seaport, and in downtown Brooklyn -- where theatre enthusiasts wait in line for tickets up to 50 percent off. Other discounts are available to members; check the website (www.tdf.org) to see if you meet the criteria for joining. Another site for discounted tickets is Play-by-Play.
Off-Off-Broadway: NYTheatre.com, created by theatre connoisseur Martin Denton, provides reviews, blogs, and news about this bustling, low-cost alternative to Broadway and Off-Broadway.
Culture on a Budget: Newcomers can be overwhelmed by the number of entertainment and dining options in New York, but the savvy New York magazine covers an impressive amount of ground, with extensive reviews of everything from sushi joints to hair salons.