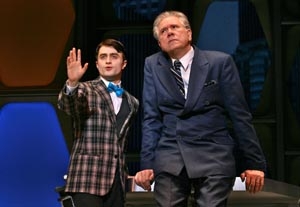 Harry Potter's magic did not work on the Tony Nominating Committee. The biggest news out of this morning's nominations is the snub of Daniel Radcliffe for "How to Succeed in Business Without Really Trying," though the British star did receive recognition from both the Outer Critics Circle and the Drama Desk. (At yesterday's Drama Desk nominees cocktail party, Radcliffe was definitely the hit attraction with the paparazzi's flashes going off at a higher rate than for any other candidate.)  I predicted he would receive a Tony nod and was even a favorite to win due to his star status. Perhaps the committee skipped over Radcliffe due to the somewhat negative reaction in the theatre community to last year's win by another film star Catherine Zeta-Jones for "A Little Night Music." Other surprise included the strong showing of now-closed "The Scottsboro Boys" with 12 nominations, the second highest number for any show, just two less than this year's champ "The Book of Mormon," which will probably take the most wins. "Scottsboro"'s Joshua Henry probably edged out Radcliffe.
But I did reasonably well in my predictions with 100 percent correct forecasts for Best Play, Musical, Revival of a Musical (OK there were only two candidates, so it would have been impossible to miss that one), Actor in a Play, and Actress in a Musical. I only missed one in the Revival of a Play category, where the wordy and intellectual "Arcadia" was nominated over the funny and fast "Born Yesterday." I got 80 % right for Actress in a Play (Hannah Yelland of the long-departed "Brief Encounter" took the slot I thought would go to Kathleen Turner for the flop "High"), and Actress in a Featured Role (Joanna Lumley of "La Bete" grabbed the nom I thought Estelle Parsons of "Good People" would grab). I missed two each in Actor in a Musical, Featured Actor in a Play, and Featured Actor and Actress in a Musical. 
My biggest disappointment was the lack of recognition for Ann Hould Ward's costumes for "A Free Man of Color," which were a dazzling wardrobe for John Guare's historical pageant at Lincoln Center.
READ MORE ON BLOG STAGE