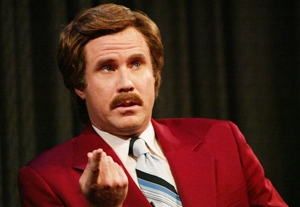 Exciting news for comedy fans arrived last week in the form of a burgundy-suited, mustachioed Will Ferrell, who appeared on "Conan" on March 28 to announce that the much-anticipated sequel to his 2004 film "Anchorman" is finally happening.
Two days later, Universal Pictures stirred fans again when it confirmed, in a decidedly less-flashy manner, that it is developing a sequel to the 1988 comedy "Twins." And on Tuesday, writer/director Peter Farrely told
ComingSoon.net
that Jim Carrey and Jeff Daniels will be filming "Dumb and Dumber 2" this summer. All the announcements were a long-time coming and highlight the difficulties of securing a sequel for any comedic film, even ones that proved successful at the box office.
Rumors of an "Anchorman" sequel have been circulating for years. Although the film took in $85 million at the box office, most of its popularity came from DVD and cable, and Paramount Pictures was reluctant to sign on for a sequel. Many of the cast members, as well as Adam McKay, who directed the film and co-wrote the script with Ferrell, said that they were interested in an "Anchorman 2," but the film hit financial snags during negotiations.
"It's a tricky movie because everyone went and did really well after it, so everyone's prices went up and everyone's time got a little more valuable,"
McKay told MTV News
in 2010.
In the same interview, McKay said that some of the actors, including Steve Carell and Paul Rudd, whose careers took off after the 2004 film, had agreed to lower their prices for the studio. But two days later, he tweeted that Paramount had turned down an "Anchorman" sequel.  It's unclear what prompted Paramount to change its mind this year, but McKay and Ferrell are expected to co-write the script again, with McKay directing and Judd Apatow producing.
While fans of "Anchorman" have been clamoring for a sequel for some time, there was considerably less demand for a follow-up to "Twins," the 1988 comedy starring Arnold Schwarzenegger and Danny DeVito as long-lost twins with quite a few character differences. This made it all the more surprising when
Universal Pictures confirmed
that it is developing a sequel, to be called "Triplets," in which Eddie Murphy will join the cast as the third brother.
Though the original film was a box office hit 24 years ago, raking in more than $200 million worldwide, rumors of a sequel were nonexistent until recently. In 1994,
DeVito told Charlie Rose
that he, Schwarzenegger, and "Twins" director Ivan Reitman had already decided not to pursue a second film. Instead, the three teamed up that year on "Junior," which tanked at the box office. Since then, the trio hasn't reunited. It wasn't until last summer that word of a "Twins" sequel reemerged.
"Yes, there's a 'Twins 2' in [the future], if we can get Arnold out of the doghouse" DeVito joked
during an interview with Movieweb
at Comic-Con. "But the idea is that you've got to find the right script — you can't just go out and be a couple of meat hooks in front of the camera… Somebody get us a script."
Someone must have presented a suitable script, because the project is officially a go, with Reitman signed on as a co-producer and Schwarzenegger, DeVito, and Murphy set to star in the leading roles. Still, with Universal planning a follow-up to another 1988 film, "Midnight Run," an action comedy in which Robert DeNiro will reprise his role as a bounty hunter, the question of what merits a movie sequel remains unclear. Comedy sequels have a record of bombing at the box office — "The Hangover Part II" was last year's rare exception, breaking records on opening weekend — which makes them a bit risky for studios.
Another common difficulty arises when actors, reaching success in the wake of a popular film, decline to return for a sequel. While last year's "Bridesmaids" was a huge hit, raking in $288 million and scoring a number of award nominations, the film's star Kristen Wiig has said that she and Annie Mumolo, who co-wrote the script, are not interested in a "Bridesmaids 2."
"We aren't working on that," Wiig
told The Hollywood Reporter
in January. "Annie and I aren't planning a sequel."
Universal said that it may still look into a "Bridesmaids" follow-up, even if Wiig doesn't sign on. At least "Anchorman" fans don't have to worry about that — Ron Burgundy will be making a definite comeback in the film's sequel. Some things can be expected to change, though: the sequel will likely be set in the 1980s, which means Burgundy may have to trade in his polyester red suit for an electric blazer and piano tie.