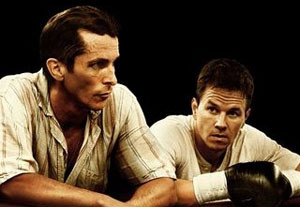 To be tapped for a Screen Actors Guild Award as a leading actor, one must display "a command of the screen," says Sean Smith, Los Angeles bureau chief, Entertainment Weekly. The character has to be transformed in some way and be "likable," an important Hollywood buzzword, "Though the great actor can take the unlikable character on the page and bring him to life in ways that are unexpected and move you on some level—whether it's tears, terror, or laugher," Smith adds. Most central for him, a great performance is always controlled, and the actor is the master of his tools.
Colin Firth in "The King's Speech" fits the bill for Smith. Indeed, Firth is a front-runner as King George VI, whose "stutter was an impediment not only to him as a monarch but also to himself and his sense of identity," Smith says. "His stutters and tics could be so over the top and showy, but instead [Firth] gives a controlled, nuanced, and modulated performance. Firth has never gotten an award and he is widely adored. This could be his year. If I was a betting man—and I'm not—I would be doubling down on Colin Firth."
Other critics who weigh in on this year's SAG contenders in the leading and supporting acting categories are Manohla Dargis, co-chief film critic, The New York Times; Jennie Yabroff, arts writer, Newsweek; and Kevin Lally, executive editor, Film Journal International. Not all films had been screened for the critics at press time; for example, none had seen the Coen brothers' "True Grit" or James L. Brooks' "How Do You Know."
Besides Firth, James Franco in "127 Hours" is a favorite. In the film based on the true story of a man who was trapped in a canyon for five days, Franco carries the film single-handedly. All the critics concur it is classic tour de force performance. Ryan Gosling is another likely nominee for his powerful turn in "Blue Valentine," depicting the disintegration of a blue-collar marriage. "His performance is gritty and real," Smith says. "It's an incredibly lived-in, raw performance that is heartbreaking and terrifying simultaneously."
Smith also admires Aaron Eckhart in "Rabbit Hole," a film about two parents grappling with the death of their child. It's a deeply emotional performance and far removed from the flinty and acerbic men Eckhart usually tackles, Smith says. "In this film he's a heartbroken father, and he plays the part with such strength and vulnerability."
Dargis does not find Eckhart's performance award-worthy, partly because of the film's subject. "It's about two grieving parents, and in a way that makes it easier," she says. "It has the built-in sympathy factor. What's a far more interesting and difficult performance is Jesse Eisenberg playing [Facebook creator] Mark Zuckerberg in 'The Social Network.' Eisenberg's Zuckerberg is not obviously good or bad, and that's not easy to pull off. He's not overtly emotional and doesn't milk an audience's sympathies. At times he seems autistic but not in the grand tradition of overacting autism. It's almost a recessive performance." Yabroff likes Eisenberg too. "You cannot take your eyes off him," Yabroff says. "It's a compelling performance." Lally finds Eisenberg's mastery of Aaron Sorkin's fast-paced dialogue another point in his favor.
Dargis also likes Leonardo DiCaprio in "Inception," though she admits he might be a long shot. "He delivers a lot of exposition without sounding like it," she says. "He's a James Bond guy and an intellectual puzzle master. It's also a physical performance. You feel the man's intelligence and the weight of his sorrow."
Lally is especially impressed with Édgar Ramirez, playing the legendary terrorist Carlos the Jackal in the five-hour film "Carlos." "It's a charismatic performance," Lally says. "And it was remarkable how effortlessly he was able to speak English, French, and Spanish."
Leading Ladies
A front-runner in these critics' views is Annette Bening for her depiction of a complex, and not wholly likable, lesbian in "The Kids Are All Right." "What's so surprising is how physically transformed she is," says Smith. "She changes the way her body moves, the way she holds her mouth, the look in her eyes. Like any great actor, she continues to surprise you and feel new. She's playing a flawed woman, yet the audience is seeing a side of her the other characters aren't. It connects the audience to her. Also, it's her time to win, damn it."
It's widely known that Bening is a great actor, says Yabroff, "but we've never seen her in a role like this. She allows herself to be unglamorous and unsympathetic." Dargis notes that while the audience is aware that it's watching a star, the performance is wholly believable and at some point her star presence completely disappears.
Michelle Williams is recognized for her compelling and multilayered portrayal of a wretchedly unhappy blue-collar wife in the two-hander "Blue Valentine." Smith says the character is not easy to read, "But Williams manages to make her accessible and understandable and relatable [in a way] that would be difficult for an actor with less talent. The trick is that while she's pulling away from her husband, she can't be pulling away from the audience. She modulates her emotion, and it's very powerful."
Smith also taps Nicole Kidman in "Rabbit Hole" for revealing colors that audiences have never seen before. "It's an open, soft, delicate performance," the critic says. "She no longer feels airbrushed." Dargis agrees that Kidman "allows her face to be rediscovered," but is less impressed. "Her character's child has died. How can I not cry? But that's not enough. I'm not saying it's a ton of schmaltz, but it's not transcendent, either."
Dargis admires Natalie Portman as a troubled ballerina in "Black Swan." "It's a committed performance and gutsy in terms of playing someone who could look foolish, especially in such an over-the-top movie," she says. Lally is equally impressed with Portman's willingness to throw herself wholeheartedly into a "really silly role. It's 'Red Shoes' meets 'Repulsion.' "
Other names the critics mention include Jennifer Lawrence in "Winter's Bone" and Lesley Manville in "Another Year." Smith says of Lawrence, who tackles an impoverished young woman from the Ozarks, "She's so believable, you're not sure she's acting." Yabroff sings Manville's praises. "Manville's performance in Mike Leigh's film is riveting," says Yabroff. "She sucks up the oxygen in the room." And as in all Leigh projects, the actors largely create their own characters and dialogue, thus making Manville's achievement all the more impressive, says Yabroff.

Providing Support
"Supporting actors have to elevate the film, make the other actors better, and give life to what could be flat," says Smith. "They have to be noticeable and blend in at the same time and usually do it with far less screen time than the lead."
Smith and the others like Andrew Garfield in "The Social Network," for evoking a character who is hurt, vulnerable, and the moral center. In less skillful hands Dargis says, the character could just "be annoying, instead of the most sympathetic figure in a gallery of rogues. Also, because we feel he truly loves Zuckerberg, he humanizes him."
Geoffrey Rush in "The King's Speech" is another front-runner. "It's the kind of role that gets nominations," says Yabroff. "He's the therapist who makes the transformation possible for the leading character. He unlocks the potential, and that's very satisfying." Adds Smith, "He makes the king accessible because he pushes all the right buttons. He levels the playing field. Also, he's the primary source of humor. He's endearing and charming, and you want him over for dinner."
Mark Ruffalo receives kudos for his performance as the sperm donor in "The Kids Are All Right." "The movie is about the two women, but he's a crucial part of the narrative," says Smith. "He's immature, lacking in self-awareness, and yet he's not a villain. He does things that hurt people, but they're accidental. He's another actor who can take a character who is unlikable on the page and make him likable on the screen." Adds Dargis, "He creates a character who is both simpatico and relentlessly glib."
Dargis likes Vincent Cassel in "Black Swan," though she's not optimistic he will be recognized. "Vincent Cassel is wonderful in bringing a sleaziness and lethal attraction to his performance," she says.
Lally hopes Jeremy Renner gets a nod for his performance in Ben Affleck's "The Town." "He's got a Cagney-like quality," says the critic. "You sense the danger. It's also such a great follow-up to his work in 'The Hurt Locker.' He's volatile in both, but they're very different roles. I also think Michael Douglas might get nominated for his role in the 'Wall Street' sequel; perhaps he'll be recognized as a leading actor for his performance in 'A Solitary Man.' "
Lally also believes Christian Bale has a good shot in the supporting actor category. "He plays a colorful Boston boxer who has descended into addiction," says Lally. "He's a crack addict and has lost 30 pounds." Besides giving such a vivid performance, the actor is physically striking. Also, adds Lally, "He's been the star of major blockbusters but has never gotten a nomination. And because this is such a standout performance, he's got an extremely good chance at a nomination this time."
Yabroff is taken with Frank Langella in "All Good Things," though she calls him a "stretch," mostly because the movie is not especially impressive, in her view. Still, Langella makes a stock, archetypal unforgiving, cold father nuanced and real, she points out.
Among the women, Julianne Moore is tapped as a major contender in the supporting category for her work in "The Kids Are All Right," though many think she is a leading actor. "She has an interesting arc," says Smith. "She's in a committed relationship with a woman and then has an affair with a man. What's interesting is that without her saying it, you understand why she's done it."
Helena Bonham Carter is a front-runner for her performance in "The King's Speech," in part because she's playing a three-dimensional woman, unlike the quirky characters she has become identified with, say the critics. Plus, she's subtle, serving as Firth's "emotional anchor and support system, while also servicing the other characters beautifully," Smith points out. "She is no diva."
Lally is a fan of Amy Adams and Melissa Leo in "The Fighter." He notes of Adams: "She shows a side we have never seen before. In other films, she plays these sweet, wholesome characters. In 'The Fighter' she plays a tough, working-class barmaid who uses the f-word and goes toe to toe with Melissa Leo, who will also, I believe, be nominated as a supporting actor. Leo plays a formidable, 'don't mess with me' kind of character. It's not subtle, but it's riveting. The two will be competing against each other."
Dargis thinks Kimberly Elise should win a nom for playing a tormented and abused wife in "For Colored Girls." "She lives with a monster, but she has to show tenderness and love, not just fear, and you do understand her love for him," says Dargis. "You also see maybe she is as addicted to him as he is to alcohol. It's not just about weeping. She has a great face, and there are a lot of depths to this woman."
Another actor Dargis admires is Mila Kunis, who plays a ballerina in "Black Swan." She's "funny, witty, sexy, and a great foil to Portman," the critic says. Yabroff cites Elle Fanning in Sofia Coppola's "Somewhere." "She's the moral center of the film, and we love kids in those roles," Dargis says. Then there's Jacki Weaver in "Animal Kingdom," an Australian crime drama in which she plays the family matriarch, "who has the sweetest demeanor but is a true python," says Lally. "She deserves a nomination."