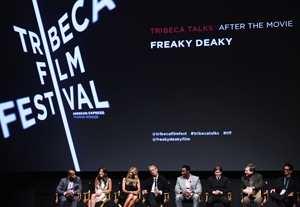 Following the world premiere screening of "Freaky Deaky" at the Tribeca Film Festival on April 22, the fest hosted a "Tribeca Talks" panel with director Charles Matthau and cast members Andy Dick, Crispin Glover, Michael Jai White, Sabina Gadecki, Breanne Racano, and Leonard Robinson at the School of Visual Arts Theatre in New York.

Those in attendance spoke to moderator Kurt Loder and the audience about making their film adaptation of Elmore Leonard's novel, in which a Detroit cop and a beautiful actress try to take down a rich movie producer and wind up dealing with extortion, double crosses, and dynamite in the process. Here's what we learned:

Matthau, who wrote and directed "Freaky Deaky," called actor and filmmaker Crispin Glover "my friend for 40 years," ever since they attended the same grade school in Los Angeles. Glover's father is veteran character actor Bruce Glover, while Matthau is the son of the late Walter Matthau. (Marquees for Matthau movies "The Front Page" and "The Taking of Pelham One Two Three" are visible in the background of some scenes in "Freaky Deaky.")

Leonard's novel was originally set in 1988, but he and Matthau together decided to move the action to 1974 for the film. "In 1974, when I was 9, I don't remember much. I wasn't into drugs yet," Dick said, generating laughs. He added, "But 1988, that was a fun year for me! That's when I started finding drugs!"

The film was shot in Detroit, thanks to Michigan's tax incentives.

Having lost many of the original actors due to scheduling conflicts, most of the cast of "Freaky Deaky" was still not in place with just days to go before production was scheduled to begin. At the last minute Glover replaced William H. Macy, who had to return to the Showtime series "Shameless." "I think we got half the cast about 72 hours before we started shooting," Matthau said. Later, speaking to the challenges of low-budget filmmaking, he cupped his palms and said, "You try to keep all the sand in your hands, but it keeps spilling out."

(Robinson, on the other hand, was on board from the beginning. "I was prepping for a year for this. If you've got three scenes, you'd better nail them," said the actor, who plays a supporting role nicknamed "Juicy Mouth," modeled after characters seen in blaxploitation movies. "When your IMDb profile comes up, you want some recognizable character names. So the audition came up and I was like, 'Juicy Mouth,' hmm. I don't often get to play anything like a thug. I normally do a lot of comedy. It was an opportunity to have some fun.")

Glover ("Hot Tub Time Machine," "Back to the Future"), who is also the director of "What Is It?" and "It Is Fine. Everything Is Fine!," says that the money he made as an actor in this film will go toward funding his next project. When Glover told the crowd that he is currently building film sets on his property in the Czech Republic, Michael Jai White corrected him and called it a castle. "It's an old chateau built in the 1600s," Glover said. "It has horse stables, and that's where I'm building the sets, working with Ukranian workers who have never worked on a film before. I do things as inexpensively as possible, because even doing it that way I will go broke, and then I slowly recoup by touring around to independent movie theaters. It's not a normal business model, but it's worked."

White, who has had a variety of roles in the business in a career spanning more than 20 years, believes that actors need to be proactive and make their own opportunities. "You can't really complain unless you do something about it," said White, who has been an actor, director, producer, writer, stuntman, and even a wrestling coordinator. He plans to make a sequel to his 2009 film "Black Dynamite" later this year, and an animated series of the same name is coming to Adult Swim.

Gadecki considered taking drugs to prepare for an acid-trip scene in "Freaky Deaky," but discovered videos on YouTube that would duplicate the effects instead. "If I wanted to learn how to play [being on] acid, I could just Google me on acid," Dick quipped.


Skip (Christian Slater) and Robin (Breanne Racano) get serious in "Freaky Deaky." (Kim Simms)

In addition to the cast, crew, and producers of "Freaky Deaky," audience members at the packed event included Kevin Brown (Dot Com on "30 Rock"), Dan Schechter (director of "Supporting Characters," which premiered at TFF this year), Christopher Lemmon (son of Jack), and Geoffrey Gilmore (Chief Creative Officer of Tribeca Enterprises).

Matthau will begin shooting his next film, "Sugar Shack," later this summer. He called it a comedy about male strippers that is a cross between "Caddyshack" and "The Full Monty." "I plan on being in that, as well," Dick joked. "You can witness my audition for that later at the party."

For the full 2012 Tribeca Film Festival schedule and to purchase tickets, visit TribecaFilm.com.