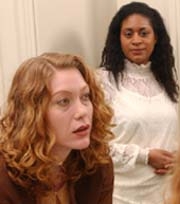 On May 25, 1994, Lynn Green was raped by a homeless man on an unoccupied floor of the Chicago Bar Association building. Green, an actor, was working in the CBA restaurant at the time, and decided to ride the elevator up to the 17th floor for her break. The rapist followed Green, bound and gagged her, and threatened her with an ice pick while he raped her three times.
What happened then was miraculous.
"As I came into a state of consciousness, I realized that this was the first time in my life that I was operating to my full capacity. I faced my own death," Green said, "both literally and metaphorically." She recalls that during the rape, she had a conscious, transformative experience, much like those who have near-death experiences. In the same instant that Green was being brutally traumatized, she observed herself becoming a witness to the crime.
"What was interesting to me, as I stepped outside of the experience to witness it, was that I knew there in that bathroom, I had evil looking me in the face. And I was going to have to face my own darkness. I started delineating my own evil and goodness, in myself."
Within the literal definition of the word "witness," Green's wherewithal allowed her to make a composite sketch of the perpetrator with the police. "I was able to remember every detail of the rape," she said. "I remembered things about him while I was being raped. 'Scar on neck, one quarter inch long.'" Systematically, she filed the details in her mind. Two days later, the rapist was caught trying to enter the CBA building thanks to the extraordinarily detailed and accurate sketch, which took eight hours to complete.
Chicagoans may recall that a few years after the crime, Green sued the Chicago Bar Association for lax security of its building. She was awarded $2.25 million.
Yet when Green talks about the rape, she talks in terms of spirituality and miracles, not in terms of justice. "I went into an intense examination, witnessing the whole spectrum of my psyche almost immediately. I wasn't healed immediately, but I embraced what a rape victim goes through -- and it is severe. It levels you."
Green's voice took on a deeper tone. "I know I'm opening up myself to a lot of controversy by discussing rape like this, but I would never want to present myself as an authority on rape. It was my experience -- I'm not on a crusade or mission. For myself, I interpreted this spiritually. It was organic, not intellectual."
Some time later, after Green had spent time healing, she mentioned to her friend, writer Stephanie Lenore Kuehn, that her story might make an interesting play, and then never mentioned it again.
"My reaction was, 'Oh, my God, I'm not touching that with a barge pole -- it's so difficult a subject,'" recalled Kuehn. But the idea intrigued her. "I tried writing it more realistically, like a made-for-TV thing. I didn't like it. So I let it go." But the seed of an idea planted itself in her brain, and would sprout years later, in another spiritual awakening.
Kuehn had been interested in the ancient Greek goddess Persephone for quite some time. The myth goes like this: Persephone, the daughter of the harvest goddess Demeter, was picking flowers with her friends. The god of the underworld, Hades, had his eye on Persephone as a potential wife, and so when Persephone wandered off alone, Hades seized the opportunity to abduct her and make her queen of the underworld. Demeter, mourning the loss of her daughter, turned the earth barren and cold. Eventually, Persephone was allowed to return to her mother, who rejoiced and returned the earth to its former fruitfulness. Unfortunately, while in the underworld, Persephone ate one kernel from a pomegranate, and so each year she had to return to Hades' side for several months, during which time Demeter condemned the earth to winter.
It was the dual nature of Persephone -- goddess of spring and queen of the underworld -- that intrigued Kuehn. "I remember that I had a dream one night," she recollected, "of Persephone with a light around her body, and she was holding a lantern. I knew exactly who she was, and I realized in that instant, 'This is how I can write the play.'"
Kuehn set to work creating "Final Angel," drawing upon the similarities between Green and Persephone. Green signed on to support the work both morally and as a producer through her California-based company Fine Arts Enterprises. Kuehn gave her protagonist a new name -- Lil -- and made Persephone Lil's therapist. "Facing death -- the play is about truly facing your death," said Kuehn.
Ora Jones, an actor who is familiar with grand, queenly roles (she recently played a wacky yet dominating Queen Elizabeth in the Goodman Theatre's "The Beard of Avon," and is a resident actor at Court Theatre), plays Persephone. "In an intangible, or ethereal, or spiritual way," she pondered, "Persephone has a direct correlation with Lil, in that they've both gone through the same horrible thing."
Jones recalls the news stories of the rape, and how it rocked the city with its brazenness -- that such a crime could occur in a high-profile building in the middle of the afternoon. "It was a situation where you would not expect something like that to happen." In much the same way, Persephone experienced the same thing as Green, taking a break, wandering off in broad daylight.
"But the difference between Persephone and Lil at the beginning of the play," Jones explained, "is that she has not only survived the experience, but has found a way of being. She can't go back to what she was before, but she finds strength in her own survival, which is not something Lil has acquired yet."
It was not until well after she was cast as Lil that actor Justine Scarpa knew that the play was based on a real event, and she feels fortunate because of it. "I'm glad I had enough building blocks of the character in place before I spoke with Lynn Green about her experience," Scarpa disclosed. "I needed something that was mine before I could take in what happened to her." How did Scarpa react to the story? "I think she was extremely lucky in her response to the rape," she declared. "Not that anyone could be called literally lucky in that situation, but it's not really something within one's control -- how you respond is how you respond. But she was lucky to be so brave, lucky in her determination to catch the right guy."
Green agreed. "I was in a situation where I was probably emotionally mature enough to handle it. It was incredibly devastating, and if I were put together differently, I couldn't have healed."
For Kuehn, there were several questions that needed to be explored in "Final Angel." "After something like this happens," she pondered, "how do you go on? Do you have compassion? How do you stay open to life?"
"The play is based on the comprehensive concept of healing," determined Green, "and the possibility to heal. You can choose not to, or you can go through the journey."
"Albert Einstein once said something," recollected Green. "'There are only two ways to live your life. One is as though nothing is a miracle. The other is as though everything is a miracle.' I think he's right." There are so many miracles and serendipitous moments around Green's story that they can hardly be counted. That Green survived, and has thrived despite, or perhaps because of, the experience, is one. That her story is being told in the city where the rape happened, despite Green's subsequent move to California, is another. That Green is producing it is another.
Telling her story is another path of healing, even though Green is ambivalent about representing herself as one with a message. "This was always a kind of interesting, bittersweet experience. So I never had a mission, or felt like I had to do something with the incident. But I want the story to be told. It's amazing -- the power of storytelling."
------------------------
"Final Angel" opens Friday, January 17 at 8:00 p.m., and runs until March 2 at Theatre Building Chicago, 1225 W. Belmont, Chicago, IL. For information, see their website: www.theatrebuildingchicago.org. For tickets call 773-327-5252, or visit www.ticketmaster.com.