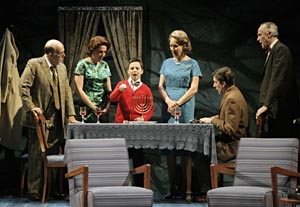 In Minneapolis, the Guthrie Theater is a behemoth, the Goliath to the Davids of small and midsized theatre companies, which together have made the Twin Cities area second only to New York in theatre seats per capita. Founded in 1963, the Big G was one of the nation's first regional theatres, serving as a model for others. With its mega-budget muscle and award-winning, three-theatre complex, the Guthrie is once again making a splash on the national scene.
On April 13, the theatre kicked off a three-month festival celebrating the work of one of America's most influential playwrights: Tony Kushner. During the Kushner Celebration, patrons can participate in a four-week Guthrie Learning Center class called "Page to Stage," working with dramaturg Jo Holcomb, who will speak about Kushner's life, inspirations, and the celebration's three productions. Assistant production director Trevor Long will explain sets, costumes, and lights and provide a free tour of all the Guthrie Stages—the theatre has thrust, proscenium, and black-box stages housed in its Jean Nouvel–designed, Ikea-blue building overlooking the Mississippi River.
The first production is
Caroline, or Change
, directed by Marcela Lorca.
Caroline
, with a libretto by Kushner and music by Jeanine Tesori, is a sung-through musical about race relations in Louisiana in the early 1960s. The Broadway and London productions received multiple Tony nominations and an Olivier Award, respectively.
Caroline
stars Greta Oglesby, who originated the role of Aunt Ester in August Wilson's
Gem of the Ocean
at the Goodman Theatre in Chicago. Oglesby has been seen around the country at the Oregon Shakespeare Festival, the Goodman, and Boston's Huntington Theatre.
The second play is a world premiere commission called
The Intelligent Homosexual's Guide to Capitalism and Socialism With a Key to the Scriptures
, directed by Michael Greif (currently represented on Broadway with
Next to Normal
). The dream cast consists of veteran Kushner actors Kathleen Chalfant, Stephen Spinella (both starred in the Broadway production of
Angels in America
), and Linda Emond (
Homebody/Kabul
at the New York Theatre Workshop). Finally, a collection of short plays called
tinyKUSHNER
premieres, directed by Berkeley Repertory Theatre artistic director Tony Taccone. As if that wasn't enough, there will also be talks by Frank Rich of The New York Times, Lambda Legal executive director Kevin Cathcart, and Kushner.
Triple Stage
The Guthrie specializes in the classics—Shakespeare, Molière—and, more recently, historically based musicals such as
1776
. Its mission has changed slightly now that it has settled into its new building. Explains artistic director Joe Dowling, "One of the main reasons for building a three-theatre complex like this is being able to focus on specific areas of dramatic interest. We've been in the building now nearly three years. We wanted to broaden our scope a little, and the notion of using all our theatres for a single playwright I felt would do that.
"We began to think about what playwright we would want to celebrate, and Tony was the first who came to my mind," he continues. "He's been the most significant American playwright of his generation without question. He seemed to me to be the ideal candidate. The key to this was we would produce his work in all three theatres…and we would have a series of talks, but we would absolutely have to have a new play. It really comes out of the concept and the vision of what the new Guthrie can be."
The ambitious project came together relatively quickly, taking about a year and a half from conception to fruition. Kushner had been thinking about his new play,
The Intelligent Homosexual's Guide
, for some time, and it made sense that it would become the commissioned work.
The
tinyKUSHNER
plays, says Taccone, "were written for other events. Over the years, [Kushner has] been writing speeches for commemorations and commencements and every celebratory event you can think of. One year he and I, we were doing an evening for the public, and he was onstage talking, and he read a short little piece that was hilarious and smart and engaging and all the things that mark his work. I said, 'This is cool.' I wanted to do them at Berkley Rep, and he said, 'Why don't we do them at the Guthrie?' He took 12 plays out there, and it was clear all of them weren't gonna fly. So we're doing five." Those plays include
Geraldine of Albania Meets Lucia Pamela on the Moon
, a version of which appeared in The New York Times Magazine, and
Only We
Who Guard the Mystery Shall Be Happy
, a send-up of Laura Bush that was originally published in The Nation. An entirely local cast will be featured in this program.
The Kushner Celebration at the Guthrie Theater runs through June 28. For tickets and more information, call (612) 377-2224 or (877) 447-8243, or visit
www.guthrietheater.org/kushner
.