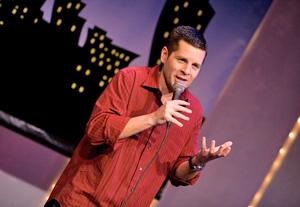 "Our challenge is that most people don't think of Arabs as funny or warm or capable of laughing at themselves," said standup comic Dean Obeidallah, who is a co-producer and co-founder of the New York Arab American Comedy Festival, whose seventh annual installment runs through May 9 at 3LD Art & Technology Center in New York.
Arab comics are not a new phenomenon—the late Danny Thomas was born Muzyad Yakhoob to Lebanese immigrants in Michigan—though their presence is not widely known of in the culture at large, said Obeidallah. Indeed, Obeidallah was a standup comic for close to seven years prior to the festival's inception. But in the wake of Sept. 11, he felt a sense of urgency, not simply on his own behalf but "to show Arabs to Americans in a different light." The festival has been a way to combat stereotypes and humanize the image of Arabs, as well as create a showcase for talented Arab comics, actors, and playwrights, he explained.
The festival has grown substantially. "The first year, we performed for three nights and we had about 20 performers," Obeidallah said. "This year we have nine shows for five nights and more than 50 performers. Also, we'll see an international presence at the festival: Arab comics from Lebanon, Egypt, Saudi Arabia, and two from Canada. We're going to have an all-Arabic show—standup comics who perform in Arabic, the first of its kind in the United States. And we're going to have a 'Haram Show,' a late-night 'dirty Arab' comedy." Sketch comedy will also be on hand, with 90 minutes of original sketches written by Arab Americans and starring actors from Broadway and such TV shows as "The Good Wife," "Rescue Me," "Law & Order," "CSI: Miami," and "The Sopranos."
Crossing over to mainstream audiences is not without its stumbling blocks, Obeidallah admitted, estimating that 20 percent of the festival's attendees are non-Arabs. "Of course, we'd like to see many non-Arabs in the audience," he added. Still, the festival has served as a springboard for Arab-American comic talent into such mainstream projects as "Rendition," "24," and "The Visitor," said festival co-producer and co-founder Maysoon Zayid. She is one of a handful of female comics of Arab descent currently working the comedy circuit. She also has cerebral palsy. But that did not prevent her from landing a role in Adam Sandler's 2008 flick "Don't Mess With the Zohan." According to Zayid, Sandler was looking for Arab actors, requested a DVD of the festival, and was so impressed by her comic talents that he wrote the part for her on the basis of that DVD.
Two other names to have emerged from the festival are Maz Jobrani, who appeared on the ABC show "The Knights of Prosperity," and Omar Metwally, a writer and director who also has a leading role in the new film "The City of Your Final Destination," directed by James Ivory and starring Anthony Hopkins.
After 9/11
The festival's sensibility has evolved, according to Zayid and Obeidallah. While the comedy had a defensive and self-conscious edge in its early years—comics talking about racial profiling at airports, FBI surveillance, and the fact that America collectively views Arabs and Muslims as scary—in recent years the comedy has become more like that of any immigrant group beginning to experience self-acceptance. "As 9/11 grows more distant, we feel freer to make fun of ourselves and our culture," said Obeidallah. "In the beginning we couldn't do that, because we felt under siege. Now we're far enough away from 9/11 to celebrate who we are and have good times." Family dynamics, dating, and the problems of dual identities are intrinsic to the comedy, he added.
Tim Jon Semmerling, author of " 'Evil' Arabs in American Popular Film: Orientalist Fear," noted that the response to Sept. 11 is still the engine that drives Arab-American comedy but that another element has been thrown into the mix. Rather than simply pointing to themselves to say, "I'm swarthy and scary," some comics are turning the mirror on the hater. "Many Arab comics talk about their names, which are screeching sirens," Semmerling said. "There's the comic Ahmed Ahmed, who describes what happens as his name is announced in an airplane and then shows the expressions on passengers' faces." Audience members identify with the passengers and see themselves in a new light. That's the first step toward breaking the stereotype, said Semmerling.
Zayid noted that Arab comedy continues to represent the "voice of the oppressed in the same way that Richard Pryor was the voice of the black community when it had no voice and was the voice nobody wanted to hear." She also compared Arab comedy to the work of Lenny Bruce and George Carlin, both of whom voiced the unacceptable. Still, her most defining identity, she said, is that of Jersey girl, followed by her disability. "It's always there and I always have to address it," she said. "When I come out on stage, I have to explain it somehow. Otherwise audiences wonder, 'Is she high?' 'Is she drunk?' "
Indeed, Zayid's disability—not her ethnicity—is her biggest barrier into the mainstream. "There are many club owners who've loved me and taken a chance," she said. "But others are terrified that I'll fall off the stage and die. It's fear, not bigotry. If it weren't for the Arab comedy scene, I would be having a much harder time."
Sexism is also a barrier. "Comedy, regardless of nationality, is an all-boys club, made up of a lot of younger guys who think they're brilliant," Zayid said. "And I've been left out because I'm a woman, and a woman doesn't fit the image." However, she has experienced acceptance and respect from Arab male comics and even Arab audiences, including mature crowds. "I thought they'd lynch us," she said. "But I've found them very supportive." She has encountered only a couple of zealots who were repelled by a woman performing: "Out of 150 comments on YouTube, only one might say, 'She's bad; she has no respect.' And those are always anonymous comments."
Doors are opening for Zayid. Consider this: She was invited to the Tribeca Film Festival to meet with producers and pitch her screenplay, which is in development. "It's about a Palestinian Muslim virgin with cerebral palsy from New Jersey, and I plan to star in it," she said. "My movie will be the first ever [to feature] a girl with cerebral palsy playing a girl with cerebral palsy—so that disabled kids watching the movie won't have their hearts broken when they see me walking down the red carpet, the way my heart was broken when I saw Daniel Day-Lewis walking down that red carpet perfectly, with no disability." Day-Lewis played a writer with cerebral palsy in the 1989 film "My Left Foot."
Obeidallah is also moving along, at least in the New York comedy-club scene. He admitted he has a niche simply because he's Arab-American, "not just another white comic," he said. "Being different is a draw for club bookers in New York." Obeidallah has penned a screenplay and would, ideally, like to host his own show.
The TV Sitcom
All agree that a major inroad will be made when Arab-American actors and characters are finally featured in their own sitcom. Semmerling pointed to groundbreaking programs such as "The Cosby Show" and "Rhoda" as examples of how TV comedies can shatter stereotypes by demonstrating the everydayness of minorities: " 'The Cosby Show' was not just about being African-American but about raising children. 'Rhoda' was not just about being Jewish but the problems surrounding dating." He added that even a character like Archie Bunker, who maligned ethnic minorities on "All in the Family," was a step in the right direction, because he was a source of comedy and, if nothing else, opened up the discussion. So far that conversation is not taking place in connection with Arabs, at least not on sitcoms, Semmerling said.
Obeidallah would love to see Arab Americans entering America's living room each week, but he's not convinced that Arab Americans, unlike African Americans or Latinos, have the numbers to sustain a weekly program: "We're getting closer to that big crossover. But we're not there yet." Still, he looks forward to the time when Arab-American actors are routinely cast in nonstereotypical roles, such as the love interest, as opposed to the terrorist, deli worker, or limo driver. "Even though we're all different shades and colors," he said, "we are pigeonholed on the basis of our names."