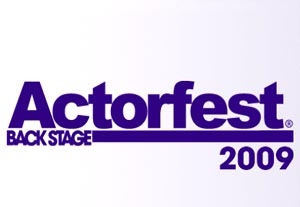 Anyone serious about being a performer attends ACTORFEST.
Once again, the largest expo specifically for actors, dancers and singers will take New York and Los Angeles by storm this fall. Both events include intensive workshops and panels, a huge Exhibit Hall, casting calls, and casting director meet-and-greets. For more information, visit
www.actorfest.com
.
ACTORFEST NY
takes place on October 24, 2009 at the Hammerstein Ballroom in midtown Manhattan. Participating casting directors include:
* Todd Thaler,
Todd Thaler Casting, "The Caller," "Queens Supreme," "Pollock"
* Kimberly Hope,
Kimberly Hope Casting, "Law & Order: Criminal Intent"
* Geoffrey Soffer,
Geoffrey Soffer Casting, "Ugly Betty," "Legend of the Seeker"
* Jennifer Rudolph,
Mitchell/Rudolph Casting, "Flipped," "G.I. Joe," "Transformers"
* Paul Schnee,
Barden/Schnee Casting, "Pineapple Express," "Redacted," "World Trade Center"
* Barbara McNamara,
Barbara McNamara Casting, "What Happens in Vegas," "30 Rock" (background casting), "The Devil Wears Prada" (background casting)
ACTORFEST LA
takes place on November 14, 2009 at the California Market Center in downtown Los Angeles. Participating casting directors include:
* Victoria Burrows,
Burrows/Boland Casting, "The Lovely Bones," "King Kong," "Cast Away"
* April Webster,
April Webster & Assoc., "Star Trek" (2009), "Lost," "Criminal Minds," "Alias"
* Francene Selkirk,
Shooting From the Hip, Commercial Casting Director for 15 years
* John Levey,
John Levey Casting, "Southland," "ER," "West Wing"
* Heidi Levitt,
Heidi Levitt Casting, "Lakeview Terrace," "The Rock," "JFK," "Natural Born Killers"
* Scot Boland,
Burrows/Boland Casting, "The Adventures of Tintin," "Death Race," "The Polar Express"
* Chris Game,
Chris Game Casting, Commercial Casting Director for 14 years
* Matthew Barry,
Barry/Green-Keyes Casting, "My Sister's Keeper," "Alpha Dog," "Rush Hour," "The Notebook"
* Mark Teschner,
Mark Teschner Casting, "General Hospital," "GH: Night Shift," "Port Charles"
* Jami Rudofsky,
Jami Rudofsky Casting, "Gilmore Girls," "Beautiful People," "10-8"
* Robin Lippin,
Meshel/Lippin Casting, "Life UneXpected," "Sex, Love & Secrets," "Lizzy McGuire"
REGISTER FOR ACTORFEST NEW YORK
REGISTER FOR ACTORFEST LOS ANGELES
See you at Actorfest!