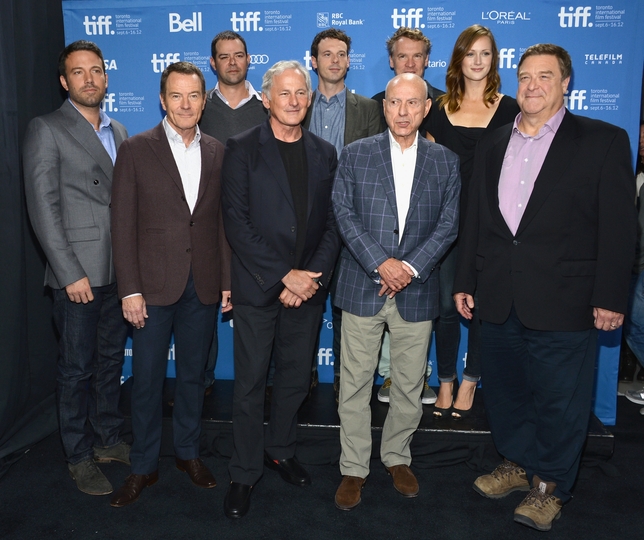 The cast of Ben Affleck's "Argo," a drama about the 1979 Iranian hostage crisis, will be honored at the 16th annual Hollywood Film Awards, according to The Hollywood Reporter.
This year's Hollywood Ensemble Acting Award will honor "Argo" star and director Affleck, as well as Alan Arkin, Bryan Cranston and John Goodman. Based on the true story of six U.S. diplomats who escaped hiding in Tehran by posing as a Hollywood film crew, "Argo" is Affleck's directorial follow-up to 2010's "The Town." "Argo" received much Oscar buzz after its premiere at the Telluride Film Festival in September and its run at the Toronto Film Festival later that month.
In the film Affleck plays CIA agent Tony Menedez, who rescued the American diplomats by faking the production of a sci-fi fantasy film entitled "Argo." Cranston plays Mendez' assistant Jack O'Donnell and Arkin and Goodman play the Hollywood producers behind the forged film. Although not being honored at the awards, Scoot McNairy (whom we interviewed in September) also stars as one of the six Americans hostages.
The first awards show of the 2012 Oscars season, the Hollywood Film Awards celebrate individuals' accomplishments on screen within the current year. Hollywood Film Festival founder, Carlos de Abreu, and his advisory team select the honorees each year.
"We are very proud to recognize the actors who form the cast of 'Argo' for their outstanding performances in this special film," De Abreu told THR.
The awards have also recently announced this year's other honorees, including Marion Cotillard's second Hollywood Actress Award for her role in the upcoming drama "Rust and Bone."
Previous films that have received the Hollywood Ensemble Acting Award are last year's "The Help," "The Social Network," 2007's "Hairspray," and "Crash," among others.
The Hollywood Film Awards will take place on Oct. 22 at the Beverly Hilton.