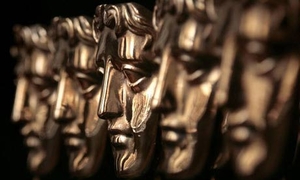 The 2013 BAFTA Awards were held on Sunday in London, and "Argo" walked away with three prizes for best film, best director Ben Affleck, and best editing by William Goldenberg (who also cut "Zero Dark Thirty.") Producers Affleck, George Clooney, and Grant Heslow (pictured) accepted the award for best film. Things were changed up this year, where the approximately 6,500 voting members were allowed to vote in every category, rather than just their branches, as in years past. In this way, the BAFTA voting more closely mirrors Oscar voting. However, it's unknown how much crossover there is between BAFTA and Academy members.
There were some surprises at the ceremony hosted by Stephen Fry, however. French actor Emmanuelle Riva won best actress for "Amour" over the likes of Jessica Chastain and Jennifer Lawrence. Many pundits predicted this, so it wasn't a total shocker. And best supporting actor went to Christoph Waltz for "Django Unchained," over predicted frontrunner Tommy Lee Jones for "Lincoln." This category has always felt the most wide open, and Waltz adds the BAFTA to his Golden Globe win. In the screenplay categories, Quentin Tarantino bested "Zero Dark Thirty" in original screenplay with "Django Unchained" and David O. Russell took honors in adapted screenplay over both Chris Terrio's "Argo" and Tony Kushner's "Lincoln."
In business as usual, Daniel Day-Lewis took best actor for "Lincoln" and Anne Hathaway took best supporting actress for "Les Misérables." Numbers-wise, "Les Miz" was the big winner overall, taking four awards--in addition to Hathaway, it won production design, hair and makeup, and sound. But it failed to win best British film, losing to James Bond and "Skyfall."
A complete list of winners follows:
Best Film
"Argo"
Best British Film
"Skyfall"
Best Director
Ben Affleck, "Argo"
Best Actor
Daniel Day-Lewis, "Lincoln"

Best Actress
Emmanuelle Riva, "Amour"
Best Supporting Actor
Christoph Waltz, "Django Unchained"
Best Supporting Actress
Anne Hathaway, "Les Misérables"
Best Original Screenplay
"Django Unchained"
Best Adapted Screenplay
"Silver Linings Playbook"

Best Foreign Language Film
"Amour"
Best Documentary
"Searching for Sugar Man"
Best Animated Film
"Brave"
Best Cinematography
"Life of Pi"

Best Production Design
"Les Misérables"
Best Costume Design
"Anna Karenina"
Best Film Editing
"Argo"
Best Makeup & Hair
"Les Misérables"

Best Original Music
"Skyfall"
Best Sound
"Les Misérables"

Best Visual Effects
"Life of Pi"

Best Debut by a British Writer, Director or Producer
Bart Layton (writer) and Dimitri Doganis (producer), "The Imposter"
Best Short Film
"Swimmer"

Best Short Animation
"The Making of Longbird"
Rising Star Award (previously announced)
Juno Temple